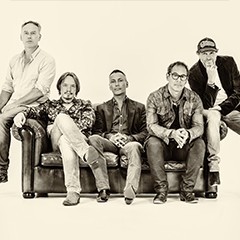 From their first try-out it's very clear that The LSB Experience (based in The Netherlands) has something special to offer.
The unique blend of voices of these three singer-guitar players, now known as the typical The LSB Sound, started it all. Their expanding repertoire is a tribute to music heroes from the sixties & seventies, like Crosby, Stills & Nash, Jackson Browne, James Taylor, The Beatles and The Eagles. LSB brings you back to the era of Love, Peace & Happiness.
Since 2012 The LSB Experience has been performing at the famous American Beatles Tribute Abbey Road On The River Festival on a yearly basis. The band also toured in the United Kingdom and Germany on several occasions.
The LSB Experience has so far released 3 albums. Their second album, The Experience, containing only original material, was recorded in Cincinnati, USA.
In the spring of 2018 the group completed an intensive 3-month theater tour in The Netherlands, together with their rhythm section and famous Dutch comedian Dolf Jansen as presenter/co-vocalist. This music/cabaret theater show, called The Story Of The Troubadour, is dedicated to the famous Troubadour Club in West Hollywood, where so many of their musical heroes performed.
The LSB Experience is:
Hans Sligter
Marcel Luntungan
Sjoerd van den Broek