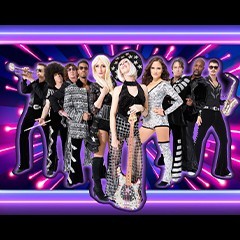 If we didn't know better, we'd say that the Boogie Wonder Band, arrived via a time machine because this 10-piece band busts out funk-a-licious grooves and disco-strutting jams like they are straight out of the '70s. Channeling the era with a full throttle high-octane live show, each member dons eye-popping Las Vegas-inspired costumes and flashy personas. They don't just hail from another land; they come from another decade – where Disco ruled the dance floors!
After more than 3000 shows around the world the Boogie Wonder Band has become the most celebrated DISCO band of our generation.
With recent stops in Mumbai, India for the Neighbourhood Winter Festival, Disco Symphony shows with the Cape Cod Symphony, Mardi Gras in New Orleans for Pygmalion fest with the Ladies from Chic, and of course the unforgettable Inaugural Ultimate Disco Cruise, they continue to spread the word and raise the bar!
Boogie Wonder Band was honored to have won "Entertainer of the year" at the Canadian Event Industry Award 2015, in 2016 were named one of the top 5 Hottest Canadian Event & Party Bands and the only 70'S cover band featured in the prestigious event and meeting professional magazine BizBash "Retro Entertainment" and in 2017 they finally made it to the infamous Page Six of the New York Post!
From major sporting events to high end corporate parties, from premieres to entertaining celebrities such as the SNL after party with Chris Pine and LCD soundsystem, Celine Dion and Emeril Lagasse, everyone knows BWB will bring the house down!
Over the years, BWB has had the privilege to share the stage with Kool & The Gang, Village People, Rick James, War, CHIC, KC & the Sunshine Band, Gloria Gaynor, Maxine Nightingale, The Trammps, Paul Shaffer, Styx, Foreigner and the who's who of funk and disco… With 10 world-class singers and musicians, the band is as versatile as can be. For this reason they have been able to welcome special guests onstage, perform with string quartets & symphonic orchestras or to build a special number for a TV show or gala, such as the SOCAN 25th anniversary party.
There is no event too big or too small for a disco extravaganza with BWB. They've performed at casinos across the world, small clubs in New York City or Los Angeles, theaters across the Americas and some of the world's largest festivals, they do it all…