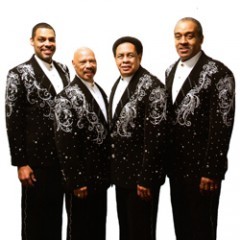 The Legendary Coasters have the distinction of becoming the first vocal group to be inducted into the Rock & Roll Hall Of Fame in 1987. Since that time many other musical groups have taken their rightful place alongside The Coasters in this special honored position in the music world. It has been reported that the renowned song writing team of Leiber and Stoller found a relationship with the ensamble that was near magic. The hits just kept coming and became a major portion of the musical score that was retrospective of Leiber and Stoller. It received a Grammy and seven Tony Award nominations. That show was "Smokey Joe's Cafe."The Coasters recently toured some forty Performing Arts venues in the highly acclaimed revival of "Smokey Joe's Cafe" winning full audience standing ovation each night before singing their first note.
Their songs are unique because they are infused with humor and a special wink that always lets their audience in on the fun.The first hit was "Down In Mexico" which was followed by "Young Blood" and "Searchin". Both selling a million copies each. The Coasters road to success has been paved with gold with more blockbuster hits such as "Yakety Yak", "Charlie Brown", "Along Came Jones" "Poison Ivy", "Little Egypt" , "Love Potion No.9″,"Zing Went The Strings Of My Heart", "Baby That's Rock & Roll:"… Just to name a few. All the Trade Journals have referred to the quartet as one of the most amusing acts in show business. All of the current members are good entertainers. ( See personal biographies). Coasters Member like Joe Williams (Tenor/Baritone/Bass) 2001 to present. Performed with original lead singer and founding member, Carl Gardner for over 18 years, alongside other members, Primotive Candelaria (1st Tenor) 2008 to present . Dennis Anderson, (2nd Tenor) 2011 to present. Robert Fowler (Bass) replacing Eddie Whitfield who retired due to illness in 2015. Since Carl passed away in 2011 his lovely wife Veta has maintained the same style and quality necessary to honor the legacy under her management with the legal rights to be sure that the total integrity of the name "The Coasters" will continue for years to come.
AWARDS:
On November 11 2017, The Coasters along with their manager Veta Gardner were honored with "The Artists Music Guild Life Time Achievement Award", adding to the many awards that were earned over the years.
Rock & Roll Hall Of Fame
Rhythm & Blues Music Award
Vocal Group Hall of Fame
South Carolina Beach Music Hall Of Fame
Doo Wop Hall Of Fame