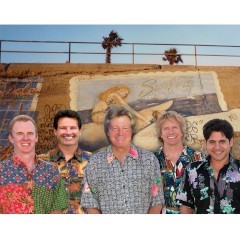 The JAN AND DEAN BEACH PARTY brings California surf culture of the 1960s to life with original lead singer Dean Torrence performing the duo's hit singles "Surf City," "Drag City," "The Little Old Lady From Pasadena," "Dean Man's Curve," "Honolulu Lulu," "Ride The Wild Surf," "Sidewalk Surfin'" and many more. Backed by The Surf City Allstar Band (featuring musicians from The Beach Boys band, The Ventures and Frank Zappa's band), The Jan and Dean Beach Party delivers fun and nostalgia like no other show on the road today.
The "golden boys" of California surf rock and roll, Jan and Dean dominated the pop charts in the 1960s with 16 Top 40 hits — seven in the Top 10 — that shaped the sound of a generation. Their close harmonies sprinkled with elements of doo-wop were buoyed by vivid narratives of their Southern California lifestyle. Their influence on music and pop culture was both immediate and lasting, bolstering an idyllic image of the region that was reflected in film, books and music and remains to this day. The duo was inducted into the Grammy Hall of Fame in 2008.
Jan and Dean toured throughout the world for over two decades until Berry's death in 2004. As a tribute to his lifelong friend and the music they created together, Dean launched The Jan and Dean Beach Party to continue sharing the spirit and the music of Jan and Dean to audiences around the world.