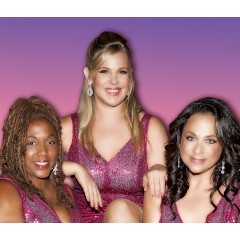 A Tribute to Female Artists Through the Decades
From The Supremes to Dionne Warwick, Lesley Gore to Donna Summer, Aretha, & so many more, The Chiclettes will get you moving as they showcase the female artists that dominated the music scene for the last five decades.
Performing favorites from the 50's, 60's, 70's, and beyond, they remind us of the fantastic female contributions these artists made to the pop music scene through the years. Their high-energy appeal is universal; the young and young-at-heart appreciate them alike!
The Chiclettes have shared the stage with such performers as The Drifters, Little Anthony and The Imperials, The Trammps, The Stylistics, The Delfonics, Gary US Bonds, The Crystals, and the list goes on. Their history includes appearances on NBC TV, CBS FM's Doo Wop Shop with Don K. Reed, and the "Doo Wop 52" special produced by WQED TV and aired nationwide.
Recently their harmony talents have also been used to back up artists such as Bobby Rydell, Eddie Holman, Bobby Wilson, Mel Carter, Joey Dee, & more.
The Chiclettes and their band, The Coda Band, appear in amphitheaters, theatres, concert halls, casinos, & clubs all over the tri-state area & beyond including venues in Atlantic City NJ, Wildwood NJ, Manhattan and municipalities on Long Island NY, upstate NY, CT, PA, DE, & FL.
They are also repeated performers on the Time/Life© sponsored Malt Shop Memories Cruise appearing in 2013, and 2017 through 2020.
They continue the tradition of being an exciting, unique addition to any performing arts calendar. Wherever they perform, the combination of energetic talent & live renderings of some of the greatest songs ever recorded always leaves a lasting impression!