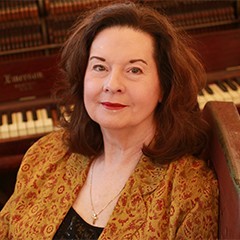 Like her brother Jerry Lee, Rockabilly Hall of Fame member Linda Gail Lewis soaked up the sounds of hillbilly music and rhythm and blues in the rural areas of Louisiana. When Jerry Lee began to score hits with "Whole Lot of Shakin' Going On" and "Great Balls of Fire", he singlehandedly lifted the family from dire poverty to a life of relative ease.
Linda Gail's chief inspiration was Jerry Lee, but later, as the era of rock 'n' roll came into play, she also tuned into the sounds of Brenda Lee, Patsy Cline, and Lavern Baker. Linda Gail Lewis's official recording debut came when she performed as Jerry Lee's duet partner for Sun Records in 1963. Recording with her brother, she scored a top ten country hit with a version of Carl and Pearl Butler's "Don't Let Me Cross Over." A rousing duet remake of Chuck Berry's "Roll Over Beethoven," a staple of her act, followed it onto the charts. The Lewis duo's 1969 Smash LP "Together", featured their rowdy duet style on a variety of country standards and rockers. This led to Lewis's debut solo album for the label, "The Two Sides of Linda Gail Lewis". During this time, Lewis toured almost non-stop as part of her brother's show.
Lewis's biggest career boost came via legendary Irish rocker Van Morrison. Lewis met Morrison at a Jerry Lee Lewis convention in England. After a sound-check jam session, Morrison proposed the collaboration, which resulted in the 2000 Pointblank/Virgin duet album You Win Again The album reached the pop charts and sold strongly at the duo's live shows. It became Lewis's best-selling disc.
Over the next 15 years, Delta Music Hall of fame member Linda Gail Lewis, toured the world constantly. She has played some of the biggest and most prestigious rock and roll festivals.
During 2014 Lewis met Rockabilly guitarist Danny B Harvey (Rockats, Nancy Sinatra) who introduced her to Lanark Records. So, during four extremely creative days at Lanark Studios in Lancaster PA, Linda Gail Lewis, Danny B. Harvey, and her daughter Annie Marie Lewis, cut 12 new rocking tunes which was released worldwide on an album called "Hard Rocking Woman" in 2015 by Lanark Records.
August 2018 a new duo album will be released by Chicago based Bloodshot Records. The duo album is with Grammy nominated highly critically acclaimed Americana / Folk singer and amazing guitar player Robbie Fulks. It was recorded and produced by Robbie Fulks who wrote most of the songs. In the past few years Linda Gail has had a career retrospective album, "Early Sides 1963 -1973, and a live Linda Gail Lewis, Annie Marie Lewis & Danny B. Harvey CD & DVD, "Family Jewels" released by Cleopatra Records, and she is currently getting ready to go into Sun Studios and record a new album with Danny b, Annie Marie, and the members of the Stray Cats for a 2023 release.