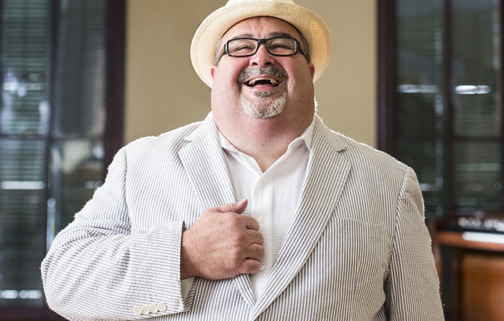 "Sharing New Orleans with the world is my calling," says pianist and organist John "Papa" Gros (pronounced grow). "That's what I have been doing and that's what I'll do with the rest of my life."
For over three decades, Gros has brought his city's celebratory culture to listeners around the globe. Gros mixes all the sounds of New Orleans – funk, trad jazz, brass band, blues – and makes it his own signature gumbo. His new solo album Central City, shows Gros capturing New Orleans' distinct feel-good charm with help from some of its' most renowned players.
Gros began playing gigs when he was just fifteen years old but didn't truly kick off his career until after graduating from Loyola in 1989 with a degree in French Horn performance. During the seminal years that followed, the young man cut his teeth as a solo performer on Bourbon Street while also developing a reputation as a formidable sideman. He backed up some of the biggest names in the Crescent City,: such as Meters bassist George Porter Jr. and guitarist Snooks Eaglin. Between 2000 and 2013, Gros began his transition into the spotlight by leading Papa Grows Funk, a highly revered group that mixed hard-hitting funk grooves with often unpredictable jazz spontaneity. The band released six critically-acclaimed studio albums while touring the U.S. and far off countries like Japan and Brazil.
This year, John "Papa" Gros has released Central City, his third solo album. The album is a collection of classic New Orleans songs, both new and old, filtered through his decades of dedication to his craft. The album features Gros' feel good originals alongside his takes on beloved songs by Allen Toussaint, Lloyd Price, and John Prine. Joining Gros on the album are a who's who in the keepers of the New Orleans tradition, who perfectly exploit the similarities between New Orleans jazz and early rock 'n' roll on songs such as "Yeah Yeah Yeah" and "Personality."
Gros absorbed a lifetime of lessons and became part of the direct lineage of New Orleans music. "I'm walking in the same path [as Dr. John, Allen Toussaint, and Art Neville,]" explains Gros. "I've been following them my whole life. Now, they're no longer in front of me. They've gotten off the path but the path is still very clear."