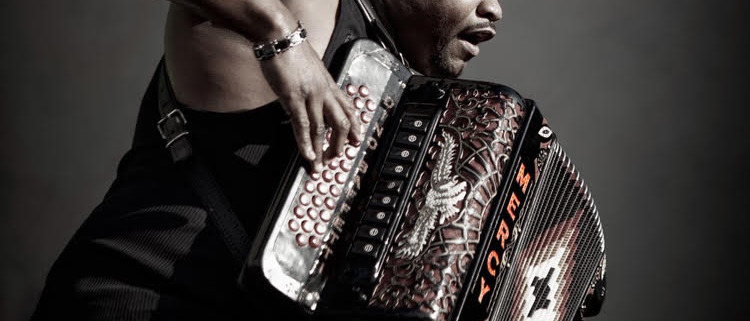 2018 Grammy award nominee and "America's Hottest Accordion" winner, Dwayne Dopsie plays a high energy zydeco that keeps you wanting more. Dwayne hails from one of the most influential Zydeco families in the world. Although inspired by tradition, he has developed his own high energy style that defies existing stereotypes and blazes a refreshingly distinct path for 21st century Zydeco music.
Dwayne, born March 3, 1979 in Lafayette, Louisiana, was the last of eight children. Dwayne attributes his musical abilities to his father, Rockin' Dopsie, Sr., a pioneer of Zydeco music.  As a small child, Dwayne was interested in the washboard, but quickly realized he had incredible talent with an accordion. He has played the accordion since age seven and states, "This is my calling – Zydeco music is in my blood and it is my heart and soul."  As a tribute to his late father, the most influential person in his life, Dwayne plans to record an album of his Dad's greatest Zydeco hits.
This singer/songwriter and accordionist has performed in 40 countries and also in hundreds of cities across the United States, Europe, Brazil, Panama and Canada since debuting his band at age 19.
Dopsie and the Zydeco Hellraisers has been in Rolling Stone magazine, Big City Blues magazine cover, Good morning America, CBS this morning, travel channel, Food Network, Jamie Kennedy experiment, Soul Bag magazine and Offbeat magazine.
Because of the energy and power of the music they play, he has won several OFFBEAT MAGAZINE AWARDS for the last 6 years for best accordion, best zydeco artist, best zydeco band and best zydeco album.
In September 2016, he was on "Louisiana Rising" with Harry Connick Jr and Randy Jackson, performing their song for the flood victims called "Rollercoaster," which is one of the songs on their new cd, "Top of the Mountain," released in 2017.
Most recently Dwayne Dopsie and the Zydeco Hellraisers was nominated for a 2018 Grammy award, for the Best Regional Roots Music Album.
Dwayne Dopsie and The Zydeco Hellraisers not only pump out incredible Zydeco music, but Dwayne's incredible showmanship, interaction with the crowd, and the rhythm and blues in their music make it a performance not to miss!!!!
Quotes:
"Dwayne takes the instruments and traditions of zydeco to new levels infusing blues, soul and funk with a driving rub-board rhythm. The Zydeco Hellraisers' sound is relentless, pulsating and funky, easily appealing to fans of all genres."
– Toledo City Paper
He has no competition in his genres, he's the Jimmy Hendrix of the accordion.
– Rolling Stone
Media Highlights:
Community Coffee television commercial
The Dolly Parton Show
CBS This Morning
The Travel Channel
Discovery Channel
20/20
Good Morning America
The Fox Television Network News
Univision, Rio Das Ostras, Brasil
Channel 3 Tampa, FL
MTV Brazil
Music for Nikki and Nora filmed in New Orleans to air on UPN Network.
Programa JO in South America
The Jamie Kennedy Show – Warner Network
Block Magazine (Netherlands), Feature Story
Rolling Stones Magazine, New Orleans Jazz Festival
New Year's Hurricane Katrina Benefit for Bear Necessities Cancer Fund
Mardi Gras Cover Story: Orlando Sentinel, Orlando, FL
Cover Story: Times-Picayune New Orleans Jazz Festival
Jornal Do Brasil, Rio Das Ostras Jazz Festival Cover Story
Cover Story: Standard Examiner for Harvest Moon Festival, Ogden, UT
The Louisiana Music Directory cover Commercial for The Saints from New Orleans, LA
Louisiana Rising, Baton Rouge, LA Fundraising for flood victims
Dwayne Dopsie & The Zydeco Hellraisers have also been featured on Playboy's website and have numerous articles published in the New York Times, USA Today, and The Los Angeles Times. Dwayne has also graced the covers of Big City Blues Magazine, The Insider's Guide to Lovin' New Orleans: Visitor Magazine, and the offbeat magazine