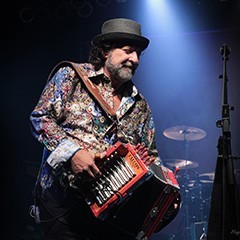 You can add another nickname to the music man they call "Le Boss." "High-energy showman Wayne Toups has long been dubbed "The Cajun Springsteen," but now you can add the title "Grammy Award Winner" to his name. "It was my first nomination and my first win," adds the Louisiana music maker with a grin. "I'm batting 1,000."
The Grammy Award caps a wave of recent career highs for Wayne Toups. He has earned Album-of-the-Year award from Offbeat magazine. In 2010, he was inducted into the Louisiana Music Hall of Fame. In 2011, he entered both the Gulf Coast Hall of Fame and the Cajun French Music Hall of Fame. He is also a member of the Louisiana Blues Hall of Fame.
This year will also mark his continued activism in the Coastal Vision Foundation, the organization dedicated to restoring America's eroding ocean coastlines. "We are losing 2,400 acres a year in Louisiana, alone," says Toups. "And it's not just the Gulf Coast. Look what our eroded coastline resulted in when Hurricane Sandy hit New Jersey and New York. We'll be doing several fund-raisers for the organization."
Wayne Toups picked up the accordion at age 13 and hasn't put it down since. He mixes Cajun sounds with the rhythms of zydeco, adding elements of soul music and Southern rock. He calls the revved-up result "ZyDecajun," and his electrifying group, "a Cajun fusion band with a rock 'n' roll attitude."
He has recorded more than a dozen albums and toured to more than 20 countries. His songs have been heard on such film soundtracks as Steel Magnolias and Dirty Rice.
Always in demand for session work in his native Louisiana, Wayne Toups has also been hired to back the British pop artist Thomas Dolby as well as many of the stars of Nashville, including Alan Jackson ("Little Bitty"), Clay Walker ("Live, Laugh, Love"), Mark Chesnutt ("It Sure Is Monday" and "Gonna Get a Life"), Sammy Kershaw, George Jones, Garth Brooks, Ty England and Mark Wills, to name a few.