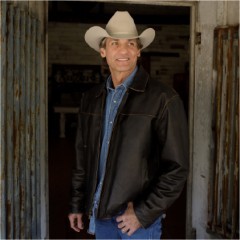 Country music's power has always been in its ability to reflect real life, and few artists have a stronger gift for capturing both heartache and hope than Wade Hayes.  In the past few years, the singer/songwriter has navigated a complicated journey that has produced some of the most potent songs of his already impressive career. Surviving stage IV colon cancer, not just once but twice, has given Hayes a unique perspective of the fragility of life and the strength of the human spirit. Those lessons learned are embodied in the songs on Go Live Your Life.
Far from being a heavy manifesto on pain and survival, Go Live Your Life is actually a vibrant tapestry that is both poignant and playful. The title track is an upbeat anthem that celebrates living life to the fullest while "Dirt Road" pays homage to his Oklahoma roots and "Remember the Alimony" is a tonguein-cheek slice of advice to a friend on the precipice of another romantic mistake. "She is Home" is a tender love song about life's true priorities while "If the Sun Comes Up" is a powerful ballad about moving on. Anchored by Hayes insightful songwriting and brought to life through his warm, rich baritone, the songs on Go Life Your Life are steeped in country's best traditions yet have a contemporary edge.
Hayes co-produced the album with longtime friend Dave McAfee.  "Dave and I got together and listened to songs and honed it down to what we thought fit on this project," says Hayes, who wrote or co-wrote all but one song on Go Live Your Life. "I'm very fortunate getting to this next step. After getting through the years of ill health and bad luck, I'm kind of laser focused right now. Getting sick has changed me immensely. It's as if I'm looking through different eyeballs now. "I appreciate everything so much more. I realize how much I took for granted."
Hayes was in his early 20s when he began churning out such enduring hits as "Old Enough to Know Better," "I'm Still Dancing with You," "On a Good Night" and "What I Meant to Say."  A second generation country singer from Bethel Acres, Oklahoma, Hayes grew up watching his dad perform. The young guitarist's dream was to be the next Don Rich, Buck Owens' revered guitar player and one of country music's most legendary sidemen.  "I was a big fan of Don Rich and I thought that's what I wanted to do," he recalls. "That's what I moved to Nashville for."
Hayes began realizing that goal when Johnny Lee tapped the young musician to be his lead guitarist, but he just wasn't meant to be a sideman. "Record label people started coming to watch me play and the next thing I knew everything was happening fast," says Hayes, who landed a publishing deal just nine months after moving to Nashville, and a contract with Columbia Records soon after. His debut single, "Old Enough to Know Better," hit No. 1 on Billboard's Hot Country Singles & Tracks chart and Hayes was nominated for the ACM's Top New Male Vocalist honor.  Two of Hayes' four major label albums have been certified gold by the RIAA, and hits such as "Don't Stop," "The Day That She Left Tulsa (In a Chevy)" and "How Do You Sleep at Night" continue to be fan favorites in his shows.
In 2009, he released the critically acclaimed independent album, A Place to Turn Around, and continued to tour extensively until his world came to a screeching halt when he was diagnosed with stage IV colon cancer in the fall of 2011. It was a surprise to everyone, even the doctors. Because Hayes was so young, doctors initially thought the symptoms were the result of him working out too strenuously and lifting too much weight. After extensive surgery and debilitating chemotherapy, Hayes battled his way back to health only to have the cancer return in the fall of 2012.
He's now cancer free again, and the title track of his new album was inspired by a conversation with his oncologist. "That's a song that I'm very proud of," he says. "When I'd gotten through cancer the second time and we were looking at my blood work, my oncologist was talking about taking my port out. A port is something they implant into either your chest or under your arm where you receive chemotherapy. My oncologist said, 'Wade, you were stage IV and now you're cancer free. We can take your port out. This is a big deal and I want to tell you something. I want you to go live your life.'
"It hit me like a ton of bricks," Hayes continues, "because I knew that he meant two different things: one being, it's kind of a miracle that you're still here. You need to go enjoy your life. And two being, you had cancer really bad, and when it spread as far as it did, there's a good chance that it can come back. He was telling me to go live my life, because we don't know how long this good is going to be.  I told Bobby Pinson that story and we wrote the song."
"Go Live Your Life" is an upbeat anthem about making the most of every day and reveling in the things that bring you happiness. "It's really been an impactful song doing it live," Hayes says. "I've done it at a lot of events and people have really gravitated towards it. They understand it and they get it."
Writing songs has been part of his healing. "Writing is therapy, letting my mind go somewhere else instead of worrying about what's on my plate," he shares. "The thing that got me in trouble in school has been the thing that's saved my life. It's daydreaming. I've gotten very good at that. Writing songs like 'Remember the Alimony' and 'Bluebonnet Blues' were just fun songs to do. It was a good time."
The album closes with an instrumental version of the old hymn "Just As I Am," a tender ending to a tour de force artistic expression. "That song was played on my very first guitar that I got when I was twelve-years-old," Hayes says. "That guitar is not the easiest guitar to play. But I still love that guitar. It's not perfect, but it's like me. I'm not perfect. That cut isn't perfect, but it's the way it came out. That song means a lot to me."
In addition to writing and recording, Hayes has been back on the road, touring this spring with pals Bryan White and Mark Wills. He also enjoys spending time at his 11-acre farm outside Nashville where one of his favorite hobbies is restoring old pick up trucks. He makes time to share his experience with cancer and encourage others fighting the battle. "I've met so many wonderful people during this journey, especially when I started healing and got out and began speaking. I've met some incredible, brave people that were inspiring to me and told me that my story is inspiring to them. I heard the story of a guy who had cancer similar to mine and he made it back to being cancer free. It gave me so much hope that once I got through the valley I thought, 'Man, that's what I want to do for other people.' I want to help them and try to give them inspiration and hope.  With God all things are possible.  I'm a living example."