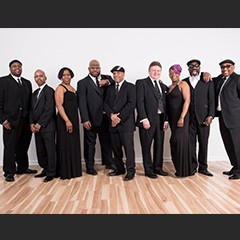 The URBAN GUERILLA ORCHESTRA is simply untouchable. Consummate professionals with decades of experience, World class musicians that record and tour with major label artists. Undoubtedly they are one of the best bands performing throughout the United States today.
Directed by trumpeter Henri McMillian, The URBAN GUERILLA ORCHESTRA is comprised of instrumentalists and vocalists who have worked with artist such as Michael Jackson, Quincy Jones, Aretha Franklin, Boyz II Men, Alicia Keys, Gladys Knight & the Pips, Kool & the Gang, The Roots and countless others. Recent high profile performances include The Philadelphia Music Alliance Walk of Fame Gala and Sheryl Lee-Ralph's "Divas Simply Singing" event where they supported Faith Evans, Alyson Williams, Candace Benson, and Angela Winbush.
The URBAN GUERILLA ORCHESTRA exemplifies versatility, sophistication and deliver an energy packed cutting edge musical experience that will rock you every second of the performance!!!
The Urban Guerilla Orchestra consists of the following: UGO Horns, Henri McMillian, Jr. (Trumpet), Louis Taylor, Jr. (Saxophone), Don Collins, (Trombone), Rhythm Section, Wendell Sewell (Guitar), Terrence Tyler (Bass), Bryan Williams (Keyboards), Daryl "Kwasi" Burgee (Drums), Pablo Batista (Percussions), Vocalists, Lawrence "Weas" Newton, Na'eemah Harper and Paula Holloway.