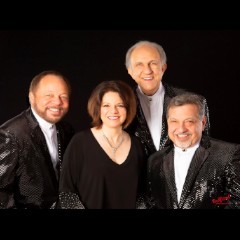 Since 1958, the unmistakable sound of the Skyliners has stirred the hearts of listeners and created memories that have lasted a lifetime.
The sudden loss of the group's lead vocalist, Jimmy Beaumont stunned devotees around the globe. Fans around the world believed his unique style and mellow voice could never be replaced.
But call it luck or divine intervention as the very talented John Sarkis, Pittsburgh native and longtime entertainer stepped in! John had been a Skyliners fan for as long as he could remember. This, along with his uncanny knack for imitating and emulating the voices and styles of so many artists allowed him to re-create the sound of the Skyliners. John's vocal stylings bring you back to a time when the Skyliners ruled the airwaves.
Veteran Skyliners member Donna Groom's dazzling vocals and splendid harmonies compliment the group and continue the "signature sound" of Janet Vogel's sweet embellishments. Add the mellow baritone sounds of Pittsburgh veteran entertainer Jimmy Gregorakis along with Eric Bruce's strong harmonies and tenor leads and the Skyliners are reborn!
Still going strong and carrying on this Pittsburgh tradition, the ever-popular Skyliners are keeping the memories alive and well.