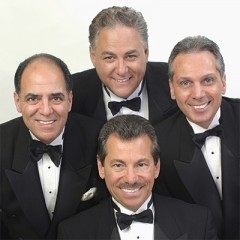 THE DUPREES are known the world over for their romantic interpretations of some of the most beautiful love songs ever written. They have made a career out of giving new life to old hits. If you take the Glenn Miller arrangements of the 1940s along with the tunes of Joni James, Frank Sinatra, Jo Stafford, Nat King Cole, (just to name a few) and the vocal harmonies of Tom Petillo, Tony Testa, Phil Granito and Jimmy Spinelli and put them together, you have the sound of THE DUPREES.The group, originally from Jersey City, New Jersey, was discovered by George Paxton, the president of Coed Records and former big band leader from the 1940s. Impressed with THE DUPREES' smooth vocal quality, he had them record Jo Stafford's 1950s ballad "YOU BELONG TO ME" with a Big Band arrangement. It was an instant national hit and the group's first Million Seller. The unmistakable sound of THE DUPREES was born and the hits kept rolling … "YOU BELONG TO ME," "THE SAND AND THE SEA," "MY OWN TRUE LOVE," "WHERE ARE YOU."
One of the highlights of their career is their second million-selling hit song "My Own True Love." It was the theme song from the 1939 Motion Picture Gone with the Wind. The movie won 8 Academy Awards and the music score was also nominated. Although many well known artists have also recorded "My Own True Love," THE DUPREES have the distinction of being the only vocal group to have made it a Nationally Charted Hit.
Because of their unmistakable sound and style, THE DUPREES have become one of America's best loved singing groups recording and performing great love songs for over 4 decades. As one fan puts it, "No one sings love songs like the Duprees." Their unique sound, outstanding vocal harmonies and incredible showmanship are unsurpassed. Although the faces have changed over the years, THE DUPREES still entertain audiences in major venues throughout the world to standing ovations at each performance.