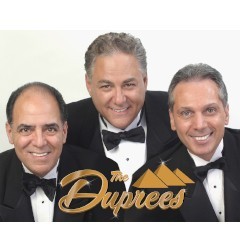 The tradition and sound that originally made The Duprees such a well-loved and successful group has echoed through time for more than 50 years. Tommy Petillo, Phil Granito, and Jimmy Spinelli active today clearly show their dedication and passion for the type of music that started on a New Jersey street corner and grew to something both classic and ultimately timeless.
The Duprees have entertained audiences who love their unique and romantic sound for more than six decades. From their doo-wop and rock and roll groups start in Jersey City New Jersey, they grew quickly to become a sensation all across the country and around the world. Although members have changed throughout the years, the singing group stayed in touch with their east coast roots and dedication to bringing favorite classics in an updated style. The singing group still thrills audiences with their smooth harmonies and romantic sound as they revitalize their top hits for new generations. Their dedication to preserving the sound, sharing it with more people, and spreading appreciation for music everywhere continues with Tommy Petillo, Phil Granito, and Jimmy Spinelli who are today's Duprees for more than 40 years now of stage performances.
These are the songs that will never die, the romantic moods and deep meanings that resonate through the hearts and minds of anyone who has ever fallen in love. When the lyrics and melodies of these old songs are brought to life by the smooth vocals of Tommy Petillo, Phil Granito and Jimmy Spinelli no one can resist the emotion that sparks memories and the desire to sing along.