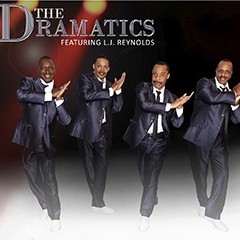 For over four decades, The Dramatics, with their dazzling vocal blend has wowed audiences all over the world. With over 38 top 10 singles to date, The Dramatics display a distinctive, rich harmony and a dynamic blend of lead and background vocals, that has transcended time, music genres, and
Generations. With L.J. Reynolds' powerful tenor, soulful delivery, and charismatic energy, The
Dramatics star continues to shine.
Their songs include a cascade of hits and fan favorites that include 'Whatcha See is Whatcha Get' ,
'Get Up and Get Down', 'In the Rain' , 'Fall in Love , Lady Love','Hey You, Get Off My Mountain',
'Fell For You', 'Thankful For Your Love', 'And I Panicked', 'Ship Won't Sail Without You', 'Door To Your Heart' , 'Your Fooling You' , '(I'm Going By) The Stars In Your Eyes', 'Me And Mrs. Jones', 'The Dramatic Theme / Treat Me Like A Man', 'Just Shopping (Not Buying Anything)', 'Be My Girl', 'I Can't Get Over You', 'Do What You Wanna To Do', 'Shake It Well', 'Stop Your Weeping' , 'That's My Favorite Song' , 'Welcome Back Home' , 'It Ain't Rainin' (On Nobody's
House But Mine)', and 'Be With The One You Love' , 'Somewhere in Time' as well as countless other great musical masterpieces.
The group introduced a new generation of fans to the power of The Dramatics' sound when they collaborated with Snoop Dogg to create the hip-hop classic, 'Doggy Dogg World.' They got together again with Snoop and recorded 'Ballin.' The Dramatics also released "The Very Best Christmas" and "The Dramatics: Greatest Hits Live," a timeless Christmas album and a live performance album recorded at a concert in New Haven, Connecticut. The Dramatics released 'Bad Girl' on the compilation CD, "Motor City Hits Vol.1".
Keeping the music alive and still with The Dramatics, Lead singer L.J. Reynolds released a solo album, "Get To This" which features the hit singles 'Come Get to This /Featuring Stepping Out Tonight,' 'Cheating on Me,' and 'You Sure Love to Ball.'  Now, L.J. Reynolds has released his new single "You and Me Together, Forever" in advance of soon to be released new album "You And Me" due in 2020.
Today, The Dramatics featuring L.J. Reynolds are still recording, still touring, and performing for their millions of fans all over the world.