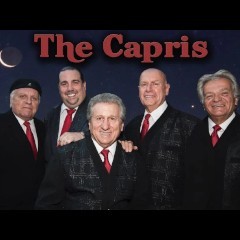 John Monforte – Bass Vocals
As the story goes, at 13 years old, John started singing as a 1st tenor on the street corners of Queens, NY in 1959. By the time he attended an all-boys Manhattan high school in 1960, his voice had made a drastic change and John was now a bass. Within 3 days he joined his first interracial group which changed his sound forever. Jimmy Ricks and The Ravens, The Clovers, The Orioles and The Mills Brothers were the groups that inspired him. He got his first professional break in 1965 singing with Vito and The Salutations for 2 years. In 1980 he joined Joe "Speedo" Frazier and the "Impalas" and sang with them for 25 great years. With the retirement of Tommy Ferrara, The Capris bass singer in 2006, Nick Santo called and asked John to join the group. As they say "The rest is history". Currently, John also sings with the eclectic "Little Isadore & The Inquisitors", performing as "Molten Milton". Singing with one group is great, but singing with 2 completely different vocal groups is a gift. As John puts it, "I'm living and singing large."
Frank Reina- Second Tenor
Frank is the original second tenor of The Capris. Frank began singing with local groups in the neighborhood as a teenager. In 1958 Frank met The Capris at a church dance in Brooklyn. The group liked Frank's vocal ability and asked him to join the group. Frank is on all of The Capris' recordings. He is as versatile with his live performances as he is with his vocal harmonies. He has the unique quality and talent of including the audience as part of the show, making for a good time for all.
Tony Sergi – Drums and First Tenor
Tony joined The Capris in 1985 as their drummer. A few years later, when original first tenor Mike Mincieli retired, he took over his vocals in addition to the drums. Tony can also be heard singing some lead vocals on some shows. Tony is truly the driving force behind The Capris. Tony has also worked with various bands backing up artists such as The Teenagers, The Drifters, The Harptones, The Chiffons, The Toys, The Dubs, The Elegants, Freddie Cannon and the Eternals to name a few. Currently, besides working with The Capris, you can see Tony performing with Midnite Rose, A classic rock group he formed with his daughter Denise as the lead singer.
Lou Esposito – Guitar and Baritone Vocals
Lou joined The Capris in 1998 after their guitarist Danny Spitalieri became ill. Later on, he took on baritone vocals in addition to guitar. Lou can also be heard singing some lead vocals during some performances. Lou has been in the industry a long time and has worked with The Elegants and Johnny and Joe.
Michael D'Amore – Lead Singer
Michael D'Amore is the new lead singer of The Capris. Michael joined the group in April 2016 born in upstate N.Y. and raised and resided in New Jersey for most of his life. For more than 28 years, Michael has been a professional entertainer based out of the New York metropolitan area. Having performed in several genres, Michael eventually found himself drawn to the harmony of the Classic R & B and Doo-Wop sounds. He also performs as a one-man show showcasing the best of the 50s, 60s, and 70s He has had the pleasure of backing up and performing with Jim Yester. Jim Yester is an original founding member and lead singer of the 60's group "The Association." He has been singing harmony at its best with songs like "Windy," "Along Comes Mary," "Never My Love," and "Cherish" to name a few. He continues to strive for perfection in his craft and will always measure his level of success by the number of smiles in his audiences. We're glad to have him in the group