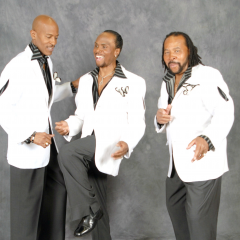 Clearing the air of all that funk; black-pop has finally returned to its roots-lyricism, full-bodied arrangements, and singing so finely meshed it evokes a deep response. Ray, Goodman, & Brown, together for 25 years have never left it. No amount of freakish good luck, no series of promotional blitzes, and no repertoire of management ploys: can by themselves keep performers on the top scene for that long (most get three to four years if they're lucky). It takes exceptional talent and changing styles to suit the whims of music fashion. Over the years there have been no hard-rock, punky, funky or disco Ray, Goodman, & Brown. On any record of theirs, you can always expect sophisticated seduction, and for them to strike an emotional affinity with the listener that transcends time.
The performing longevity is remarkable, but check the singles this group, a.k.a. THE MOMENTS, has collected. Ever since 1969's "Not On The Outside But Inside Strong", they have charted consistently with classics like "Look At Me I'm In Love'', "Love On A Two Way Street'', (covered by Stacy Lattisaw), "With You'', "Happy Anniversary'', and " Special Lady'', one of B.M.I.'s most performed songs of 1980.
Warm in a non-threatening way, they have the ability to hit a fella's soft spot and to make women feel comfortable. Billy Brown's flexible tenor can easily catch a female off guard, making her easy prey for the 'let's -get-it-on' lyric. Billy Brown was also a member of a group called the Broadway's. He sang lead on THE MOMENTS hits as before mentioned. Such as; "Love On A two Way Street", "Sunday", "Lovely Way She Loves", "Lucky Me", "I Do", "Inside Of You", and "All I Have".
Al Goodman was a former member of the Corvettes and the Vipers. After joining the Moments, Al Goodman went on to become one of the major writers and producers for the group and many other artists. "Look At Me I'm In Love", "Sexy Mama", "Inside Of You" and "Happy Anniversary", are just a few of the songs he produced and wrote. Before the untimely death of Mr. Harry Ray, he had been with the group for 25 years with a brief interruption in 1982 when he pursued a solo career. Al Goodman and Billy Brown, who owns the name "Ray, Goodman, & Brown", reinstated Kevin Owens to replace Harry Ray upon his untimely death. Kevin was lead vocalist in 1982 for Ray, Goodman, & Brown when Ray embarked on a solo career. In 1984 Kevin recorded the Album, "Who's Gonna Make The First Move". Kevin also sings background for Luther Vandross when not appearing with Ray, Goodman, & Brown.