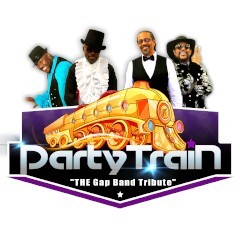 PARTY TRAIN is the funky, rocking, dancing, soulful mega band brought to life by some of the musicians who played and toured with the legendary group, The Gap Band.
Musical Director, Keyboardist, Singer, and Trombone player, Oliver Scott first introduced his musical talents as a player for The Gap Band in May of 1979. His creative pen wrote, "Yearning For Your Love" as well as many other album cuts for the group. The performance of his song from The Gap Band V album, "Where Are We Going", was nominated for a Grammy Award in 1984 for Best R&B Instrumental Performance. As a young man, Oliver Scott wrote songs and performed numerous nightclub dates regionally. In 1977 he and his brothers formed the band Bloodline and later he joined The Gap Band. In 1986, he dedicated his life and his music to his Christian faith and has written and produced five solo Gospel projects, three Gospel albums with the church he served – and has written, produced, and shared the stage with other Gospel artists. He serves as the Pastor of Worship at Sienna Ranch Baptist Church in Missouri City, Texas. Oliver has re-joined with other former Gap Band members as the Musical Director to organize PARTY TRAIN bringing back the authentic sound that their fans love.
Outstanding Keyboardist, Billy Young has a career that includes 22 years as a player with the Gap Band. Billy's talents and contributions to The Gap Band sound can be heard on The Gap Band IV, The Gap Band V, The Gap Band VI, The Gap Band VII, The Gap Band 8, Straight from the Heart, Live from Atlanta; and also, such recordings as Round Trip, Live & Well, and Y2K Funkin' Till 2000 Comez. Billy also lent his talents to Billy and Baby Gap, which was produced by Charlie Wilson as the only spin-off group from The Gap Band. He has also worked with other artists on the band's label, Total Experience, including Yarbrough & Peoples, Penny Ford, and Will King. Billy has recorded with Stevie Wonder, Eddie Murphy, Ramsey Lewis, Earth, Wind & Fire, Pebbles, Boz Skaggs, and Snoop Dog. His records with Eddie Murphy, Earth Wind & Fire, Pebbles, and Ramsey Lewis have all gone Platinum.
Talented Keyboardist and Vocalist, Roman Johnson shared decades of sound as a Gap Band player since 1984. His talents and influences are part of the original sound that continued to evolve as he served as the Gap Band's Musical Director, Writer, and Producer. Roman can be heard on the album, Straight from the Heart, where he co-wrote the song "Sweeter than Candy". Roman is also credited on the albums Round Trip (1989) on Capitol Records, Y2K Funkin' Till 2000 Comez, Live and Well, and The Gap Band The Best Vol 2. Roman Johnson has also been Musical Director for The Isley Brothers, En Vogue, Toni Braxton, New Edition, and many others. His credits as a Writer, Producer, and Arranger include: Impromp2, The Temptations, Natalie Cole, Deborah Cox, Steely Johnson, Death Row Records, and Sekou Bunch. He most recently toured with Stevie Wonder and has toured or shared the stage with The Rolling Stones, AC/DC, B.B. King, Sting, Prince, Jeff Beck, John Mayer, John Legend, Justin Timberlake, Chaka Khan, Smokey Robinson, Gospel artist Donnie McClurkin, Natalie Cole, and the late Teena Marie. Roman also performed for the Queen's 60th Jubilee and for two U.S. Presidential Inaugurations.
Anthony Walker, aka "Baby Gap", joined the Gap Band in the early 1980s, performing as a dancer, and contributing as a choreographer and songwriter. For the next 23 years, he traveled the globe with the Gap Band and performed on Dick Clark's American Bandstand, Don Cornelius' Soul Train and Solid Gold. In 1985 Charlie Wilson, lead singer of the Gap Band, produced the album with Baby Gap and fellow Gap Band member Billy Young titled "Billy & Baby Gap", which was the first album released as a collaboration of members of the GAP Band. The single, "Rock the Nation" hit the charts at #3 with a bullet! Anthony grew up in Chicago, Illinois. During the 70's he formed the break dancing group "Tidal Wave". They won multiple awards, beating out leading groups like "New York City Breakers" and others. Anthony also taught break dancing and moon walking in the early 80s at John Travolta's dance studio. During his career, Anthony also collaborated with Rick James and George Clinton, programmed beats for Pebbles, and played percussion on the single "Snoop Upside Your Head with DJ Pooh".
Lead Vocalist, Max'C (Charles E. Salter), was brought into the Gap Band family in 2015 by Ronnie Wilson, founder of the Gap Band. PARTY TRAIN stays true to the heart of the Gap Band with Max'C featured as lead vocalist. Originally hailing from Louisville, Kentucky – Max'C is a multi-talented Singer/Songwriter, Actor, and Entertainer. He has spent the last few decades working and performing in Europe. With his smooth four-octave tenor vocal range, Max'C makes audiences sit up and pay attention. Based in Helsinki, Finland for many years, he became one of the most sought-after voices in the EDM, House, and Soul music genres. Max'C has worked with the greats like Swedish House God Father, StoneBridge ("I Believe"), Axwell ("I Found U"), David Guetta ("Where Is The Love"), R3hab ("Sending My Love"), Fedde Le Grand ("Feel The Love"), and he has opened concerts in Europe for Whitney Houston, Joss Stone, Snoop Dogg, Diddy, Shaggy, and Macy Gray.