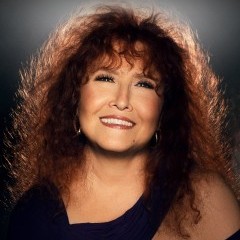 Melissa Manchester's fifty-year career is remarkable not only for its longevity and accomplishments, but for its versatility.  Following her stint as a founding member of Bette Midler's Harlettes, Melissa's tremendously successful solo career brought her critical and commercial acclaim, garnering her nineteen Billboard charted hits.  The "Midnight Blue" singer received her first Grammy nomination for Best Pop Female Vocal Performance in 1979 for the Peter Allen/Carole Bayer Sager-penned "Don't Cry Out Loud."  She went on to win the Grammy in that category four years later for the disco hit "You Should Hear How She Talks About You."
Manchester has also had her songs recorded by Barbra Streisand, Roberta Flack, Dusty Springfield, Alison Krauss, Kenny Loggins and many others.  In 1980, she made history by being the first artist ever to have two Academy Award nominated songs in a single year, "Through The Eyes Of Love (Theme from Ice Castles)" and "I'll Never Say Goodbye (Theme from The Promise), and she was the first to perform both songs in the same Oscar telecast.  Manchester has written music for several other films including The Great Mouse Detective, Lady and the Tramp II, Dirty Girl, and Tyler Perry's For Colored Girls.
Manchester has appeared on both the large screen (alongside Bette Midler in For The Boys) and on TV (creating the role of Maddy, the title character's mother in the hit series Blossom).  Her musical theatre credits include starring in national touring companies (Song & Dance, Music of the Night, Sweeney Todd, and HATS!).  She co-wrote the highly acclaimed musicals I Sent A Letter To My Love with Jeffrey Sweet (Primary Stages and North Shore Music Theatre) and the smash hit Sweet Potato Queens with Sharon Vaughn and Rupert Holmes (Houston's TUTS and regional theatres).
Manchester was born in New York where her father was a bassoonist for the Metropolitan Opera Orchestra and her mother was one of the first women to design and found her own clothing firm, Ruth Manchester Ltd.  They introduced her to all the classics, and by the age of 15, Melissa was already a published poet.
After graduating from the High School of the Performing Arts (where she studied acting), Melissa entered New York University and enrolled in a songwriting class taught by Paul Simon.  She landed a staff writing job at Chappell Music and performed as a solo singer/pianist in the clubs of Greenwich Village.  While working in the New York jingle singing circuit, she met Bette Midler and Barry Manilow.
As a back-up singer for Bette, Melissa fulfilled her childhood fantasy of playing Carnegie Hall.  Six months later, she had a recording contract, and went on to headline herself at Carnegie Hall and Radio City Music Hall, and performed for sold-out audiences across the country.
Melissa has received the Governor's Award from the National Academy of Recording Arts and Sciences for her contributions to the music and recording arts, and her body of work to date as a singer/songwriter was a featured exhibit at the Lyman Allyn Art Museum.
Manchester also received the New York Bistro Award, for Outstanding Contributions to American Popular Music, which was presented by her dear friend, the late Marvin Hamlisch.  Pursuing her ongoing passion to pass on the rich musical traditions of the great artists who influenced her in her youth, Manchester has worked with aspiring songwriters and performers at the Eugene O'Neill Theater Center, the University of Southern California and currently at Citrus College in Glendora, California, where she is the Artist In Residence.  In November 2021, Manchester was inducted into the Great American Songbook Foundation's Hall of Fame.
In 2023, Manchester embraces the sum total of her multi-faceted five-decade career with the release of her 25th album, RE:VIEW, a collection of her classic hits, revisited and reimagined.