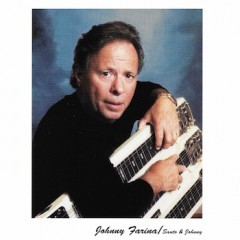 The Quintessential Steel Guitarist of our contemporary era, Johnny Farina of "Santo & Johnny" has been touring Europe and America for the pasty Fifty years, regularly performing at Concerts and Festivals and has also been well received in Mexico and Australia, too. "Santo & Johnny" earned a Gold Record in 1959 for their prolific original instrumental song – "Sleep Walk" – which they wrote and released that year. This song has been covered by more than Two Hundred different artists in its long history and has been heard in over Twenty Movies, TV Programs and Series and TV commercials as well, from 1959 to 2016.
Even more remarkable is the fact that his composition has recently been credited with over Four Million BMI Certified Airplays since its release in 1959!
"Santo & Johnny" had a TV Show in Italy and were also inducted into the Hall of Fame there for the success of their instrumental version of "The Godfater Theme" – which remained in the Number One position on the charts in Italy for Twenty Six weeks in 1973, and for which they also earned a Gold Record.
As a solo artist, Johnny Farina has been recognized, as well, by David Hinckley of "The Daily News" in 1996, who wrote that this "…'59 hit instrumental keeps
on twanging."
And Robbie Woliver of "The Long Island Voice" commented in 1998 that "Sleep Walk" is "…part of our collective being, it's in our DNA. You know it, even if you never heard it."
"Sleep Walk" was recognized again in 1999 with a Grammy Award for the Best Pop Instrumental Performance, as recorded the year before by "The Brian Setzer Orchestra" (Former Front Man and Guitarist of "The Stray Cats").
In 2002, "Santo & Johnny" were inducted into the "Steel Guitar Hall of Fame" in St. Louis, in acknowledgement of their outstanding work on this unique instrument over the years. Following that, Johnny was awarded the "Lifetime Achievement Award" in 2011 for "Sleep Walk" in recognition of its repeated use in full length feature films at the "Long Island Film Festival".
In total, Johnny Farina and "Santo & Johnny" have recorded and released 35 Albums and over 50 singles worldwide in their career, spanning over Fifty years
to date.