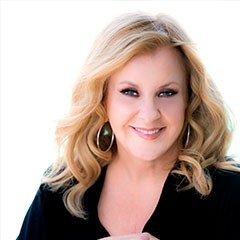 On July 7, 1979, an unknown, 16-year-old French Canadian female vocalist named France Joli performed her new single "Come to Me" for the first time before a throng of 5,000 on Fire Island at a benefit now infamously known as Beach '79.
Joli left the stage a star, and became a media darling who appeared in all the popular publications and on all the hot TV shows of the day. "Come to Me" became a smash hit that sold 3 million copies globally, rose to number one on disco charts around the world, and reached number 15 on Billboard magazine's pop chart. Befitting this fairytale, Joli portrayed Cinderella in the 1980 Macy's Thanksgiving Day Parade.
Joli still performs "Come to Me" and subsequent hits such as "Gonna Get Over You," "The Heart to Break the Heart," and "Feel Like Dancing" on the dance music circuit throughout the world. She draws a crowd at every performance. Even those of a younger generation—who may not know her by name—realize they're fans of "Come to Me" once they hear Joli's first few bars.
In 2012, Joli produced and recorded a dance version of Leonard Cohen's classic "Hallelujah," and shot its video in Palm Springs, California. The song went on to become the hit of the summer, particularly in gay mecca Provincetown, with Joli making several appearances there over Carnival Week.
In January 2013, Joli made her Off-Broadway debut in Anthony J. Wilkinson's "My Big Gay Italian Wedding" at St. Luke's Theater. She returned for a sophomore cameo performance, and also occasionally appeared in the Off-Broadway sequel, "My Big Gay Italian Funeral." She was also featured that year in James Arena's best-seller "First Legends of Disco," for which she also wrote the foreword.
In 2016, Broadway musical Disaster! at the Nederlander Theatre featured "Come to Me" as its second-act show-stopper. On April 3, 2016, Joli made her Broadway "debut" when she sang the song on stage with the cast at the end of that night's performance as part of a benefit for Broadway Cares/Equity
Fights AIDS.
Joli's recent live performance schedule has included stops in Mexico City, New York, New Orleans, Florida, Los Angeles, and Palm Springs, where she performed at both Jeffrey Sanker's The White Party and Evening Under the Stars with the First Ladies of Disco, a historic benefit that united 12 disco greats on one stage for the first time ever.
On March 9, 2018, at The Copa Nightclub in Palm Springs, Joli unveiled an hour-long show that was quite a departure from her usual 30-minute disco performances. Not only did she incorporate ballads and stories into her act, she debuted a never-before-heard medley of popular LGBTQ+ anthems.
On June 1, 2018, Joli released her new single, "Don't Forget to Dance," which she co-wrote and co-produced. The song is part of the compilation album "Love is Love," 10% of whose net proceeds will benefit Family Equality Council, a non-profit whose mission is to advance legal and lived equality for LGBTQ families, and for those who wish to form them.
Big plans are in store for 2019, which will unbelievably mark the 40th anniversary of "Come to Me." Stay tuned!