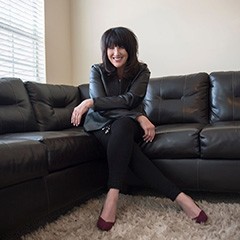 Etta Britt is a Nashville-based R&B singer and songwriter who performs across the country and around the world.  Her most recent CD, "Etta Does Delbert," released spring 2014, is a collection of Etta's takes on a variety of Delbert McClinton songs. The disc also includes a duet with Delbert
Etta's 2012 release, "Out of The Shadows," which she calls a "cool groove record," attracted critical acclaim picking up over 200 radio stations around the world. It earned her an appearance on "The Today Show," and drew opening slots for Delbert McClinton and Paul Thorn. With the new release,  Etta continues to stake her claim as one of the most versatile singers working today
The Early Years
It all started with a hairbrush.  As a youngster, Etta Britt (born Melissa Prewitt) would spend hours at her bedroom mirror, belting out Supremes songs into her Stanley hairbrush.  Today the seasoned veteran is forging a recording and performing career of her own after touring with and backing up some of the top names in the business.
Born in Lancaster, Kentucky, a town of 3,500 south of Lexington, Melissa first became Etta at age 11, thanks to her little sister.  "She called me Etta and I called her Myrna. We don't know why.  It could've been a couple of old ladies in our hometown out in the country."
Nashville Calls
In 1978, Etta – still known as Melissa — joined Dave Rowland and Sue Powell in the country-music trio Dave & Sugar.  She stayed with the trio from 1979 to 1985, during which time they received CMA Vocal Group of the Year nominations five years in a row. The group toured with Kenny Rogers, Dottie West and Conway Twitty, among many others. The experience led to TV appearances on shows from "Pop! Goes the Country" and "Solid Gold" to the "Dinah Shore Show" and "Dance Fever."
After Dave & Sugar, she made the rounds in Nashville, playing clubs and singing on sessions with Marty Stuart,  Waylon Jennings and others. During a session at Leon Russell's house, Etta's husband, renowned guitarist Bob Britt, memorialized his wife's stage name when he scribbled the name "Etta Britt" on a track sheet after Melissa's sister called asking for Etta.
With two small children and not much money. Etta made a decision to put her music career on the back burner and devote herself to her family,  taking jobs cleaning houses, waiting tables and selling real estate to help pay the bills.  For a while anyway. . .
Out of the Shadows and Into the Limelight
Although she never totally stopped singing or gave up her dream of one day performing for a living, Etta was resolved to the fact that her time for a full-blown solo career might have come and gone. That all changed in 2010 when she was invited to sign a record deal in her early 50s.
The product of that deal, "Out of the Shadows" generated a wide range of critical acclaim.   An article in the Huffington Post landed on the front page of AOL.com. That lead to Etta being featured on "The Today Show."   She spent 2012 touring with Delbert McClinton and Paul Thorn as well as touring on her own and making television and radio appearances.
Her 2014 record, "Etta Does Delbert," builds on the very successful foundation laid by "Out of the Shadows."   "I'm excited about the release of the new record and about the idea of getting out and playing this new material around the country.   I've had a lot of requests to get out there, and I'm working to make that happen – at festivals, clubs, and concert venues."
She is excited about her second record and what this phase of her life will bring.