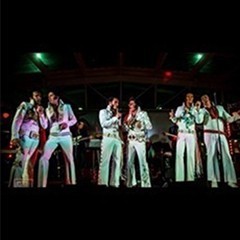 Dwight Icenhower: is not only known for his great personality on and off stage, but also for his amazing voice that has sometimes even been mistaken for Elvis Presley himself! He has performed with many of the original musicians who have worked with Elvis including: The Jordanaires, The Stamps Quartet, The Sweet Inspirations, Joe Gerchio, DJ Fontana and Duke Bardwell (just to name a few). He has taken home over 75 "First Place" awards in contests from all over the world; and in 2015, Dwight Icenhower became the only Elvis Tribute Artist in history to ever win four World Championship "First Place" titles consecutively during Elvis Week, in Memphis TN. Dwight was awarded to coveted Ultimate Elvis Tribute Artist award in 2016 by Elvis Presley Enterprises in Memphis, TN. This amazing journey has been a dream come true to Dwight, and he wishes to continue using his incredible talents to keep the memory of Elvis Presley alive for many more generations to come.
---
Jay Zanier is a successful entertainer and world-class Elvis Tribute Artist who has been performing as Elvis for 25 years. He has won numerous contests in Canada and the USA, marking him as one of the top Elvis performers in North America.  Jay's dedication has led to him to closely study Elvis' music and concert performances for over two decades, bringing an extraordinary level of authenticity to his shows. Jay is a Canadian champion Elvis tribute artists winning the award of Collingwood Grand Champion.
---
Anthony Shore never fails to impress and entertain as he performs the songs of Elvis with exceptional quality and utmost respect. His incomparable vocal ability, charismatic stage presence and approachable demeanor make him an instant favorite with audiences. Originally from the UK and fan of Elvis since the tender age of just three years old, Anthony now resides in Minneapolis and works all-year-round performing in a variety of venues.
---
EAS Band – John Crenshaw: The EAS Band is the official band of Elvis Presley Enterprises/Graceland since 2006. They are respected throughout the industry as the number one touring tribute band. This high-energy band is led by drummer John Crenshaw and is based out of the greater Chicagoland area. EAS consists of a lead guitarist, drummer, bass guitarist, keyboard player, and two female vocalists. A horn section (The Jungle Room Horns) is also available consisting of trumpet, tenor sax/flute, and trombone. Along with the talented musicians and female singers, all band members sing which gives the feeling and excitement of being at an actual Elvis concert. EAS is a professional touring band that performs all over the world backing tribute artists. They are also well versed in entertaining audiences as an opening act or to fill a night of entertainment. The band members have had many years of experience performing music from various genres including country, classic to modern rock, Motown, R& B, easy listening and jazz standards.