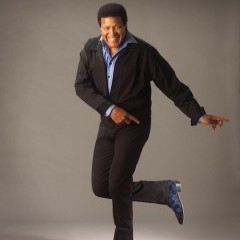 In 2 minutes & 42 Seconds, Chubby Checker revolutionized popular Culture and changed the Music Business forever. When he appeared on American Bandstand in 1960 and performed "The Twist," it was the dawn of a new era in Rock and Roll. Dancing Apart to the Beat was born and teenagers found a new way to express themselves. Chubby's Dance Style has extended from Woodstock, thru Disco to the present day. He stands alone as a one of a kind Rock Icon, who has had 36 Hit Records, is the only artist to have a single go to # 1 Twice, and according to Billboard, has the # 1 Single for the whole Decade of the 60's. Chubby was awarded the first Platinum Single, the first Rock Grammy and has sold an astounding 250,000,000 records over the years. That's why Dick Clark has said: "The three most important things that ever happened in the Music Industry are Elvis Presley, The Beatles, and Chubby Checker."
In the 21st Century, Chubby Checker string of Hit singles; and influence on a whole new generation continues. In 2004, his Radio Disney Hit, "Limbo Remix" was a fixture on the Billboard Dance Chart and remained in the Top 5 for over a year. This success was supplemented with a 2 year Tour of Disney Stations and was played over 30,000 times.
Last summer Chubby released "Knock Down The Walls," which made it's way to the # 1 Spot on Billboard's Dance Chart and extended his National Chart Life to 45 plus years – 2nd only to Elvis Presley. A Pop mix of the song found its way into the Top 30 at Adult Contemporary Radio and sparked more renewed interest in the 66 year old Artist. For the first time in 25 years Chubby, Checker will have a Major Label release. RED will issue "All The Best Deluxe 2 CD Set", which contains Chubby's re-mastered Greatest Hits along with the New Y2K Hits. Chubby's latest release is a re-mix of "The Fly", which was a Top 10 record in 1962. The single also includes an upgraded mix and re-mastering of the classic version of the song. The release date for "The Fly" is July 7, 2009.
Chubby Checker is the son of a tobacco farmer from Spring Gulley, SC. His mother moved the family to Philadelphia when he was a young boy. It was here on South Street, in Tony Anastazi's Produce Store, that he became a local celebrity by doing impressions of Fats Domino, Jerry Lee Lewis, and Elvis. His first manager, Henry Colt brought him to the attention of Kal Mann, who signed him to Cameo-Parkway Records. It was Dick Clark's wife, Bobbie, who came up with the name Checker to go with his childhood nick name Chubby – a reference to the similarity between him and Fats Domino. Chubby's first single, "The Class" was a vehicle for his musical impressions and was included in Dick Clark's '58 Christmas card. That record was his first hit and reached #38 in Billboard.
Soon after, Dick Clark was looking for someone to record "The Twist," a song originally written and performed by Hank Ballard. He needed a more commercial version for the
kids on Bandstand. After Danny & The Juniors turned down the request, Chubby recorded his version in 35 minutes one evening in July of '59. The new track shared the same arrangement except for a straighter drum feel and smoother vocal delivery. Chubby Checker's cover and his accompanying dance routine gave the song new life. It took over a year but "The Twist" went to # 1 in the fall of '60. He was dubbed "The King of the Twist."
This initial success was followed by a string of hit singles in the early 60's – some of which are: The Hucklebuck (#9), Pony Time (#1), The Mess Around (#24), The Fly (#7), Slow Twistn' (#3), Limbo Rock (#2), Jingle Bell Rock (#21), Popeye (#10), Dancin' Party (#12), as well as the first Certified Platinum single ever, "Lets Twist Again." Chubby had 10 double sided hits and according to Billboard was one of the top charting Artists in 59,60,61,62, & 63 – rated at #3 in '61 & '62. When Chubby married Catherina Lodder, who was Miss World '62, he dedicated the single "Loddy Lo" to her; which became a double sided hit along with "Hooka Tooka." In 1988 he sang lead on the Fat Boys' cover, "Yo Twist," which made it to # 16. In 2002, Chubby's country single, "Honky Tonk Girls" reached 37 on the New Music Weekly's American Country Chart.
Chubby Checker has been on a never ending tour since 1959 and has a full schedule of Concert Dates and Personal appearances through out the year. At the Daytona 500, in February 2008, he performed in front of one of the largest TV Audiences in History – 50 million viewers; as the Headline Act for the Race's 50th Anniversary. As Chubby approaches his own 50th Anniversary in Rock and Roll, his future even looks brighter than ever. Chubby's loyal fans from the 60's are now joined by the new audience he's been attracting over the last several years; from airplay on the Radio and appearances associated with Radio Disney. There are only a handful of true Rock Pioneers still performing at the peak of there ability. Chubby Checker is that rare breed. Every time Chubby steps onto a stage, he demonstrates Charisma and a unique Quality that can never be equaled.
The fall of 2009 will see the release of Chubby's 3rd Single on TEEC Recordings, now distributed by RED. "The Fly" is a Remix of his Top 10 hit from 1961. The first version on the CD is a tribute to the original; with superior sonic quality that allows it to sit alongside Modern Productions, while still maintaining the charm & elegance of the original Record. The second mix is a cutting edge Production that has the vitality to be played along side Black Eyed Peas and Justin Timberlake on any current Top 40 Station. Today, 9/23/2009 Chubby Checker extended his National Chart life to over 50 years. He debuts on the Billboard Hot 100 Singles sales at # 40!
Billboard
Quite simply, Chubby Checker has the # 1 Record of all time – "The Twist." Billboard Magazine cited him for this honor in 2008 & re-affirmed it in 2013. Dick Clark proclaimed that Elvis, The Beatles, & Chubby Checker are the 3 most important things to ever happen the Music Business.
As Summer continues, Audiences will have the opportunity to see Chubby Live & in action, as he continues his "Never Ending Tour." For over 55 years Chubby has entertained audiences,
with his Hits, that have sold in excess of 250,000,000 records & CDs. In addition to Chubby Checker "Standards,," he will be performing his newest Hit, "Changes," which has been a stable on Sirius XM & is currently the # 11 Record on Billboard's Hot Singles CD Sales Chart.
Recent National TV exposure on PBS, The Today Show, the Huckabee Show on FOX TV,
and a Standing ovation at the ASCAP Music Awards in NYC, have brought Chubby to the forefront of American Pop Culture, where he rightfully belongs. Articles in Rolling Stone & the NY Times only serve to highlight what Chubby's Fans already know.
Chubby Checker is the Most Exciting Performer out there & he only gets better & better with time.