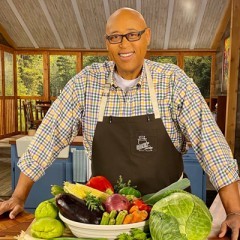 Kevin Belton, a self-trained chef began cooking under the watchful eye of his mother and grandmother in the uptown New Orleans home. Cooking instruction is second nature for Belton, who has spent almost 30 years teaching the foundation of Louisiana cooking to appreciative audiences. In addition to the almost 7,000 lessons he has led, Belton has also offered classes and cooking demonstrations throughout the U.S. and Canada. He has been a featured chef and guest on numerous food programs including Emeril Live; Ready Set Cook; Life, Love and Lunch; Food Fighters; and Taste of America. In 1999, he was co-host and chef on the BBC series Big Kevin, Little Kevin, which also featured British celebrity chef Kevin Woodford. The series, taped in the United Kingdom and the U.S., aired in Europe, Australia, New Zealand and Asia.
In 2014, he was recognized as one of the top twenty Louisiana chefs by the American Culinary Federation. In 2018, he was also recognized by the American Culinary Federation as a Louisiana Culinary Legend.
In 2014, he joined the WWL TV Morning Show as the resident chef for the CBS affiliate. And frequently also reports on events in New Orleans and surrounding areas.
In his public television debut Belton wants to pull back the curtain and show viewers what really makes the legendary cuisine of New Orleans so delicious. "Everybody says you make it look so easy," he says. "I tell them, no, it is easy." Taped in the studios of WYES-TV, NEW ORLEANS COOKING WITH KEVIN BELTON is a chance for viewers to meet a new APT host whose big personality is a perfect match for his 6' 9" frame. The second series with KEVIN BELTON'S NEW ORLEANS KITCHEN is airing around the country now and also has a companion book. Belton won a Suncoast Regional Emmy Award and a Louisiana Broadcasters Association Award. Most recently, KEVIN BELTON'S NEW ORLEANS CELEBRATIONS, the third cooking series has aired around the country and his third companion book with the same title was also released. Most recently, Chef Kevin has taped a fourth 26 part series exploring food all around the state of Louisiana titled KEVIN BELTON'S COOKIN LOUISIANA which will begin to air nationwide in the summer of 2021.