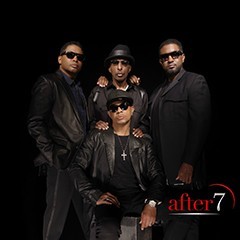 The trio group "After 7" consists of Kevon Edmonds, Keith Mitchell and newest member Jason Edmonds. Best known for their elegant vocal style, "After 7" very quickly emerged as one of the premier groups on the Pop and R&B music scene. With an array of smash hits, they established a reputation for live performance as an emotionally charged vocal powerhouse with sexy, suave and debonair moves.
Brother Kenneth "BabyFace" Edmonds, along with his former business partner L.A. Reid, discovered the group where they were immediately signed to Virgin Records. It was then that "After 7" launched their singing career, stepping into what would become a new musical dynasty of crooners during the early 1990's. Their debut album, self-titled "After 7" sold Platinum plus and yielded Two Gold Singles. "Ready or Not" climbed the billboard charts to the #1 position on R&B while the smash single "Can't Stop" topped out at #6 on billboards Hot 100 Pop Charts. The first release from their 1989 debut album, "Heat Of The Moment" was a Top Ten Single on the Urban Charts and too garnered a solid position on the Pop Charts which then opened the door to a host of awards and major tours.
"After 7" continued their string of success with the follow-up single "Nights Like This", from the movie soundtrack, "The Five Heartbeats". Three years later "After 7" came with their second album entitled, "Takin' My Time", that was sprinkled with such gems as "Baby I'm For Real", "Kickin' It", and "Can He Love You Like This". Both their second and third albums achieved Gold status that helped to keep the name alive at both radio and in the market place across the country. Thanks to that strong relationship at radio, "After 7's" music continued to play which contributed toward building a solid foundation of endearing fans for the group.
Having been heavily influenced by such groups as "The Whispers, Temptations, Four Tops and Originals"; it's no wonder that their stage performance is reminiscent of the 1960's style male groups. In their very own unique way "After 7" has managed to create a contemporary presence of the 1990's, while combining a smooth style of the sixties that provided a tasteful blend of both decades. "After 7" has shared the stage with many different artists ranging from Frankie Beverly and Maze, Gladys Knight, M C Hammer, Patti LaBelle, Peobo Bryson, R Kelly, Regina Belle, Smokey Robinson, The Whispers and Whitney Houston in addition to many others. Their presentation has always been classy and elegant along with their timeless music.