The Ultimate Disco Cruise
February 14-19, 2019 | Ft. Lauderdale * Key West * Cozumel, MX

Get ready for 5 nights of Dance Fever at Sea!
The Ultimate Disco Cruise
The disco sound merged funk, pop, and soul music. It created a musical movement and social scene for people of all different backgrounds to come together and share that dance fever worldwide. It was musical seduction at its best and everyone was invited. Lifestyles, fashion and attitudes were changing and disco was the soundtrack that brought it all together. The music had a beat and message that made us get out on the dance floor and kept us out there all night.
StarVista Live is bringing that movement to the high seas on the Ultimate Disco Cruise as we celebrate the dance explosion that was disco music.
Get onboard in 2019 and dance the night away as we hustle back to the late '70s and relive everything that made the disco era such a special time in our lives. It was all about the clubs, the music, the clothes and the fantastic social scene. Enjoy over 40 LIVE performances and 20 celebrity interactive events with some of your favorite artists that made the disco era one of the most unforgettable times of your life.
On the Ultimate Disco Cruise, you'll experience the dance culture that redefined mainstream music.
You'll have Saturday night fever every night as the music and special themed parties and events keep you groovin' on this nonstop party at sea.
We'll be sailing out of Fort Lauderdale, Florida on the beautiful Celebrity Infinity February 14-19, 2019 stopping in sun-soaked Key West and Cozumel, Mexico.
Pack your sequins, platforms, go-go boots, wide lapels and let's bust a move as we sail aboard a luxury cruise ship for the ultimate theme cruise experience. Get ready for 5 nights of Dance Fever at Sea!
The cruise production company is very close to finalizing the epic lineup so make sure to check your inbox to get the latest on artist additions, announcements and all things disco!
Check back in early December for more information or, if you just know you want to be onboard the Inaugural Sailing of the Ultimate Disco Cruise, click here to register early and we will save you a place at the front of the line.
Ports/Ltinerary
Cruise Dates, Ports and Times
To Be Announced
Rates/Terms Payment Plans
Rates Payment Plans
To Be Announced
Ship/Cabins Deck Plans
Celebrity Infinity STATEROOMS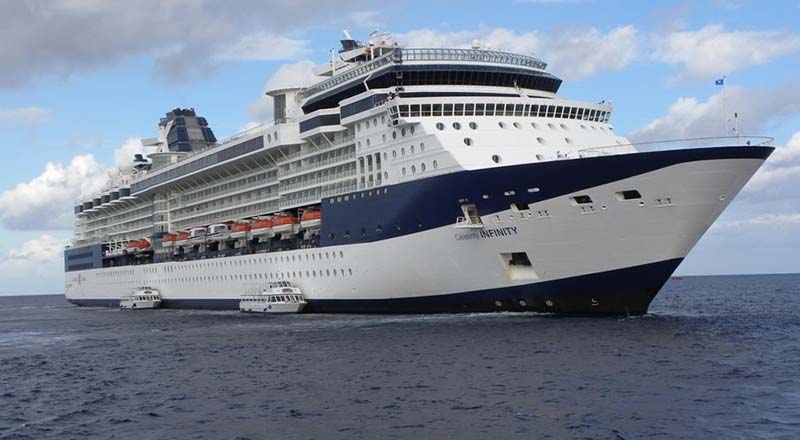 FAQ

These Frequently Asked Questions will be a growing list of the most commonly asked questions. Check back often for updates.
Q: Do you have a Military Discount?
A: Yes. To qualify for the Military Rate, you must:
be active duty, retired after 20 years of service, or medically discharged, and
provide a copy of your retired or active military ID card, or DD-214 showing Retired status or 20+ years of service.
Q: What is NOT included with the cruise?
A: Transfers from the Airport to the Cruise Ship, Dining in the specialty restaurants, Personal expenses such as photos, souvenirs & excursions, Airfare, Ground Transportation, Soft drinks and bottled water, Alcoholic beverages, Gambling, Pre-cruise or post-cruise hotels, Travel Insurance, Personal Training Sessions, Spa Services, Any event or activity off of the ship.
Q: What is included in my cruise rate?
A: Port charges, Taxes, Onboard Gratuities, Fuel Surcharge Gratuity, All performances, interviews, parties and events presented on the cruise, There are no performances, interviews or events that require tickets or any additional charge, All meals (Gourmet fare in the formal dining room, casual fare at multiple venues open for meals throughout the day).
There are charges for bottled beverages, including alcohol, and specialty coffee drinks.
The ship offers several specialty restaurants for which a surcharge is required.
24 Hour Room service, Non-Bottled Beverages (i.e. coffee, juices, tea), Fitness center, Pools, Hot tubs, Sauna, In room TV and movies, Full service room cleaning (twice a day), Daily in room fruit presentation.
Q. Is there Internet Access?
A: Yes, most all ships have Internet available and they make it available to you at a charge. They offer various packages and various rates. Check with the cruise line to find out the various packages they offer and the cost.
Q: Can I bring my iron?
A: No, sorry but cruise ships do not allow guests to bring irons onboard.
Q: How far is it from the Airport to the Cruise Port?
A: The Ft. Lauderdale Airport is less than 2 miles away from the cruise port (Port Everglades).
Q: Can I bring my own alcohol?
A: You can bring 1 bottle per person / 2 bottles per room of champagne or wine only. No other alcoholic beverages are allowed. Do not pack it in your luggage; it will be confiscated. Take it with you in your carry-on.
To inquire more, Please call the office at 585.653.8746.