The disco sound merged funk, pop, and soul music. It created a musical movement and social scene for people of all different backgrounds to come together and share that dance fever worldwide. It was musical seduction at its best and everyone was invited. Lifestyles, fashion and attitudes were changing and disco was the soundtrack that brought it all together. The music had a beat and message that made us get out on the dance floor and kept us out there all night.
We're bringing that movement to the high seas on the Ultimate Disco Cruise as we celebrate the dance explosion that was disco music. Get onboard in 2019 and dance the night away as we hustle back to the late '70s and relive everything that made the disco era such a special time in our lives.It was all about the clubs, the music, the clothes and the fantastic social scene. Enjoy over 40 LIVE performances and 20 celebrity interactive events with some of your favorite artists that made the disco era one of the most unforgettable times of your life. Featuring performances by KC and The Sunshine Band (special appearance 2/17), Kool & The Gang, Gloria Gaynor, Village People, Tavares, Norma Jean Wright, Alfa Anderson & Luci Martin – Former Ladies of Chic, Evelyn Champagne King, Thelma Houston, The Trammps featuring Earl Young, Musique, Cruise Host Deney Terrio, The Australian Bee Gees Show – A Tribute to The Bee Gees and more!
On the Ultimate Disco Cruise, you'll experience the dance culture that redefined mainstream music. You'll have Saturday night fever every night  as the music and special themed parties and events keep you groovin' at this nonstop party at sea. We'll be sailing out of Fort Lauderdale, Florida on the beautiful Celebrity Infinity February 14-19, 2019 stopping in sun-soaked Key West and Cozumel, Mexico.  Pack your sequins, platforms, go-go boots, wide lapels and let's bust a move as we sail aboard a luxury cruise ship for the ultimate theme cruise experience. Get ready for 5 nights of Dance Fever at Sea!
Celebrity Hosted Activities
Join us for 5 nights of Dance Fever at Sea!
Over 40 LIVE Performances
Celebrity Hosted Happy Hours
Artist Q&A sessions
Dance Parties
Wine Tasting
Theme Nights and Costume Parties
Dance Classes
Talent Competitions and Gameshows
Aboard the Trip of a Lifetime
Join us on this 5-day cruise as you dance back to everyone's favorite era of music.
5 nights of luxury on the highly rated Infinity
Ship transformed into a floating Disco
Disco themed parties and activities
Interaction with the Disco Stars
Over 40 LIVE performances
2,000 other fans like you
And MORE!
Enjoy a star-studded vacation with unparalleled access to legendary stars from the Disco era. See them during the nightly performances, enjoy celebrity-led activities, attend meet and greets and run into your favorites all week long during meals, pool side relaxing, drinks at the bar and more.
Ports/Itinerary
Cruise Dates & Ports
| Day | Date | Port Of Call | Arrive | Depart |
| --- | --- | --- | --- | --- |
| Thursday | February 14, 2019 | Ft. Lauderdale, FL | | 4:00 PM |
| Friday | February 15, 2019 | Key West, FL | 9:00 AM | 4:00 PM |
| Saturday | February 16, 2019 | At Sea | | |
| Sunday | February 17, 2019 | Cozumel, Mexico | 10:00 AM | 12:00 AM |
| Monday | February 18, 2019 | At Sea | | |
| Tuesday | February 19, 2019 | Ft. Lauderdale, FL | 7:00 AM | |
Ports of Call
Ft. Lauderdale, FL
Fort Lauderdale lies along the Atlantic Ocean at the mouth of the New River, 25 miles north of Miami. Its warm tropical weather attracts many people throughout the year. For sun-worshippers, the city has six miles of beaches. There are also many recreational waterways with extensive boating facilities, access to every conceivable watersport, a variety of fascinating museums and trendy restaurants, and an array of entertainment venues.
Key West, FL
Ernest Hemingway made wild, colorful Key West his home, and you will want to do the same. Home to modern-day adventurers, artists and poets, the island's charming Old Town teams with restaurants, bars and unique shops. Add pristine coral reefs, coconut palms and a laid-back attitude that's truly contagious, and it's easy to see why so many visitors to Key West never leave.
Cozumel, Mexico
The Conquistadors first saw Mexico from the shores of Cozumel while searching for gold. Today, visitors to the island continue to seek out gold and silver jewelry in the shops of San Miguel while having a great time in its many local bars and restaurants. Plus, the waters around Cozumel's sheltered coral reefs make this one of the best snorkeling areas in the world.
Rates/Terms Payment Plans
Cabin Prices
| Category | Description | New Guest Rate | More Info. |
| --- | --- | --- | --- |
| PS | Penthouse Suite w/ Veranda | $7,299 | Book Now |
| RS | Royal Suite w/ Veranda | $4,299 | Book Now |
| CS | Celebrity Suite w/ Veranda | $3,299 | Book Now |
| S1, S2 | Sky Suite w/ Veranda | $2,899 | Book Now |
| FV | Family Ocean View w/ Veranda | $2,749 | Book Now |
| A1, A2 | AquaClass w/Veranda | $2,349 | Book Now |
| C1, C2, C3 | Celebrity Concierge Class w/ Veranda | $2,149 | Book Now |
| 2A, 2B, 2C | Veranda Stateroom | $1,999 | Book Now |
| 4, 5, 6, 7, 8 | Ocean View Stateroom | $1,849 | Book Now |
| 9, 10 | Interior Stateroom | $1,499 | Book Now |
| 12 | Interior Stateroom | $1,299 | Book Now |
| 11 | Interior Stateroom (Singles) | $2,199 | Book Now |
Ship/Cabins Deck Plan
Celebrity Infinity
Modern luxury doesn't happen overnight. Celebrity is constantly improving on your cruise experience. In fact, the Infinity experienced a grand makeover in October 2015. The Rooftop Terrace gives you a chic new way to experience the great outdoors.  If you hunger for an Italian steak house, savor the fresh pastas and dry-aged steaks of Tuscan Grille. Enjoy a unique dinner at the innovative Qsine®, then top it off with a chilled Peartini at the ice-topped Martini Bar. Culinary excellence. Intuitive service. Luxurious accommodations. And stunning design. That's the Celebrity way.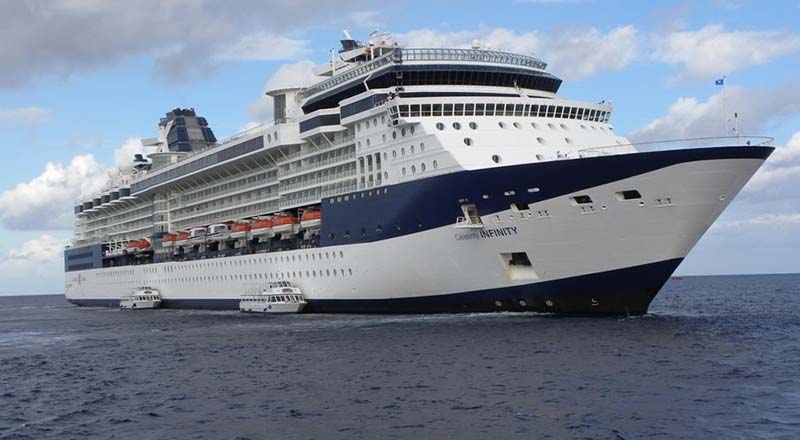 FAQ

This section is being updated. In the interim, please call us at 585.653.8746 with your questions.
Upcoming Events
February 16

-

February 23