The Rock Boat XVII
FEBRUARY 10-15, 2017 | TAMPA TO HARVEST CAYE, BELIZE AND COSTA MAYA, MEXICO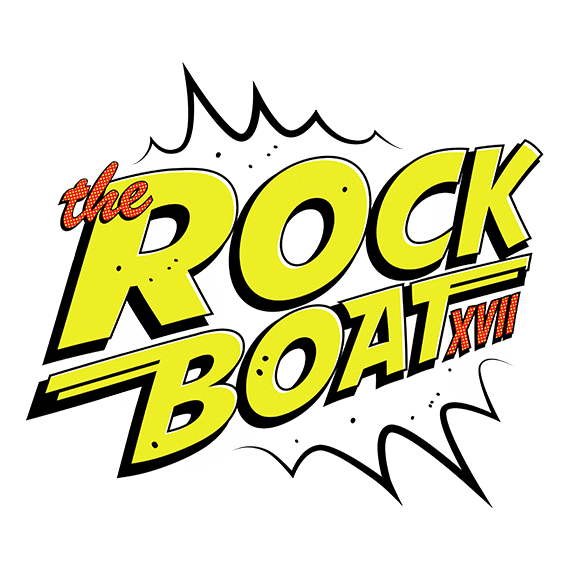 2,500 MUSIC LOVERS | 5+ STAGES OF MUSIC | DOZENS OF YOUR FAVORITE ARTISTS | INFINITE NEW MEMORIES | UNLIMITED SOFT SERVE | ONE OPEN OCEAN | BEST WEEK OF YOUR YEAR.

In a world where music reigns supreme on the high seas, lies a floating utopia. A place where normal citizens exude extraordinary musical sensibilities. A realm where bands, fans, and a rock named Boat join forces for one super-colossal, out-of-this world adventure. The time has come to join us once again for an odyssey filled with all the music, chaos, adventure, and all the onomatopoeias you can handle. WHAM! POW! SPLASH! THIS IS The Rock Boat XVII!

We're turning Norwegian Jade into our own rock & roll wonderland and sailing from Tampa, Florida to Harvest Caye, Belize and Costa Maya, Mexico, February 10-15, 2017. Sister Hazel will be your hosts and they're bringing along a crew of your favorite artists and new discoveries that are sure to blow your mind… KABOOM!

Will elevator parties become even more legendary? Can theme nights get any more zany? Will Rock Boaters experience crazy artist collaborations, make new lifelong friends, and eat Norwegian Jade's entire soft serve and pizza supply? Find out all of this and more aboard The Rock Boat XVII!

Ports/Ltinerary
Cruise Itinerary
(Subject to change)
Friday, February 10, 2017 – Depart Tampa, FL (approx. 3:30pm ET)
Saturday, February 11 – Day At Sea
Sunday, February 12 – Harvest Caye, Belize (12pm to 5:30pm)
Monday, February 13 – Costa Maya, Mexico (10am to 5:30pm)
Tuesday, February 14 – Day At Sea
Wednesday, February 15 – Arrive Tampa, FL (approx. 8:00am ET)
When booking flights we recommend that you arrive in Tampa no later than 12:00pm on February 10th. Return flights should be arranged to leave Tampa after 12:00pm on February 15th.
**Please allow additional time for customs clearance for international flights.
Rates/Terms Payment Plans
Click on the categories to view the stateroom. Click on the deck to view a sample deck map.
PRICES PER PERSON*
Add $275 per person for taxes and fees
Room

Type

Deck
Category

2

Guests

(price per person)

3

Guests

(price per person)

4

Guests

(price per person)

5

Guests

(price per person)

Interior
Deck 4
IE,IF,IX

$965

$727

$608

N/A

$1,731

Interior
Deck 5
IE,IF

$965

$727

$608

N/A

$1,731

Interior
Deck 8
I1,IB,ID 8
$1,025
$767
$638

N/A

$1,851
Interior
Deck 9
I1,IB,ID 9

$1,025

$767

$638

N/A

$1,851

Interior
Deck 10
I1,IA,IC10
$1,080
$803
$665

N/A

$1,961
Interior
Deck 11
I1,IA,IC11
$1,080
$803
$665

N/A

$1,961
Porthole
Deck 4 & 5
OF,OG
$1,100
$817
$675

N/A

$2,001
Obstructed Ocean View
Deck 8
OK,OX

$1,150

$850

$700

N/A

$2,101

Ocean View
Deck 5
O1,OB,OC
$1,200
$883
$725

N/A

$2,201
Ocean View
Deck 8
OA
$1,275
$933
$763

N/A

$2,351
Balcony
Deck 8
BD,B2,B3

$1,350

$967

$775

N/A

$2,501

Balcony
Deck 9
BC,B2,B3

$1,425

$1,017

$813

N/A

$2,651

Balcony
Deck 10
BB,B2

$1,500

$1,067
$850

N/A

$2,801

Mid-Ship Balcony
Decks 9 & 10
BA
$1,525
$1,083
$863

N/A

$2,851
Aft-Facing Balcony
Decks 8, 9, & 10
B1

$1,550

$1,100

$875

N/A

$2,901

Mini Suite
Deck 11
MB,MX

$1,625

$1,133

$888

N/A

$3,051

Mid-Ship Mini Suite
Deck 11
MA

$1,650

$1,150

$900

N/A

$3,101

Aft-Facing Mini Suite
Deck 11
M1

$1,675

$1,167

$913

N/A

$3,151

Penthouse Romance Suite
Deck 8,9,10 aft
SF
$2,650
$1,833

N/A

N/A

$5,101
Penthouse Suite
Deck 9,10 fwd
SE
$3,000

$2,067

$1,600

N/A

$5,801
Family Penthouse Suite
Deck 11 fwd
SC

$3,300

$2,267

$1,750

$1,440

$6,401

Owners Suites
Deck 9,10 fwd
H3
$4,500
$3,067

$2,350

N/A

$8,801
Ship/Cabins Deck Plans
Click the buttons below to check
Norwegian Jade STATEROOMS & DECK PLANS
FAQ

These Frequently Asked Questions will be a growing list of the most commonly asked questions. Check back often for updates.
Q: Do you have a Military Discount?
A: Yes. To qualify for the Military Rate, you must:
be active duty, retired after 20 years of service, or medically discharged, and
provide a copy of your retired or active military ID card, or DD-214 showing Retired status or 20+ years of service.
Q: What is NOT included with the cruise?
A: Transfers from the Airport to the Cruise Ship, Dining in the specialty restaurants, Personal expenses such as photos, souvenirs & excursions, Airfare, Ground Transportation, Soft drinks and bottled water, Alcoholic beverages, Gambling, Pre-cruise or post-cruise hotels, Travel Insurance, Personal Training Sessions, Spa Services, Any event or activity off of the ship.
Q: What is included in my cruise rate?
A: Port charges, Taxes, Onboard Gratuities, Fuel Surcharge Gratuity, All performances, interviews, parties and events presented on the cruise, There are no performances, interviews or events that require tickets or any additional charge, All meals (Gourmet fare in the formal dining room, casual fare at multiple venues open for meals throughout the day).
There are charges for bottled beverages, including alcohol, and specialty coffee drinks.
The ship offers several specialty restaurants for which a surcharge is required.
24 Hour Room service, Non-Bottled Beverages (i.e. coffee, juices, tea), Fitness center, Pools, Hot tubs, Sauna, In room TV and movies, Full service room cleaning (twice a day), Daily in room fruit presentation.
Q. Is there Internet Access?
A: Yes, most all ships have Internet available and they make it available to you at a charge. They offer various packages and various rates. Check with the cruise line to find out the various packages they offer and the cost.
Q: Can I bring my iron?
A: No, sorry but cruise ships do not allow guests to bring irons onboard.
Q: How far is it from the Airport to the Cruise Port?
A: The Ft. Lauderdale Airport is less than 2 miles away from the cruise port (Port Everglades).
Q: Can I bring my own alcohol?
A: You can bring 1 bottle per person / 2 bottles per room of champagne or wine only. No other alcoholic beverages are allowed. Do not pack it in your luggage; it will be confiscated. Take it with you in your carry-on.
To inquire more, Please call the office at 585.653.8746.
Book Now
Do not miss and BOOK NOW!