The Gospel Music Cruise
Thank you for sailing with us!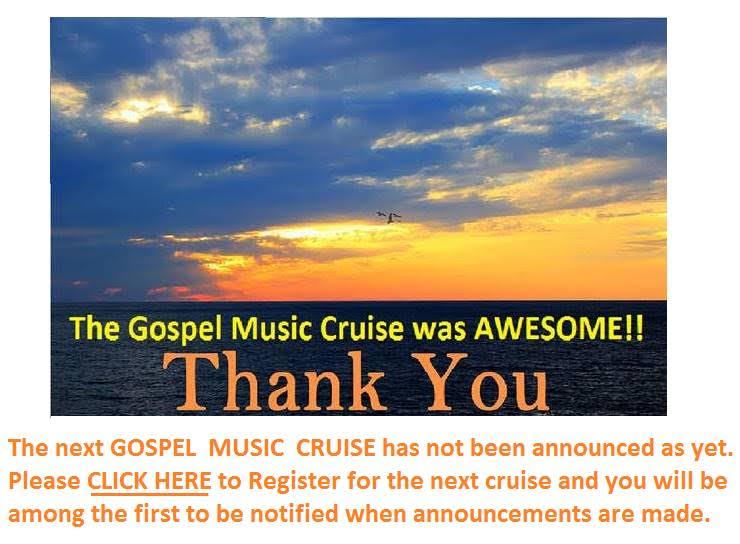 Presenting the Top Gospel Performers in the World Today:
Kirk Franklin! Yvonne Adams! Shirley Caesar! Fred Hammond, Marvin Sapp!
Tye Tribbett! Donnie McClurkin! And many more.
Incomparable gospel stars Kirk Franklin and Yolanda Adams. Sharing the stage will be legends Fred Hammond and Shirley Caesar and the very talented Tye Tribbett, Marvin Sapp and Take 6. ECP cruise favorites Kirk Whalum and Regina Belle will perform and serve as event hosts. Recently added: Donnie McClurkin, among others!
Additional performers are on the horizon, but the current lineup may just be one of the most decorated and honored groups ever assembled. With a collective 30+ Grammy® Awards, 60+ Grammy® Award Nominations and several BET Artist of the Year Honors, each and every member of our lineup is a true "superstar" of the gospel world.
Multiple Grammy® Award, Dove Award and Stellar Award Winners
Shows are open to everyone aboard, and the music never stops with premiere performances in the evenings and festival-style daytime concerts.
Intimate Interviews with the Artists and Musicians
Artist Listening Parties, Celebrity Cooking Demonstrations & Fashion Show
Concerts & Choirs in Spiritual Settings
With award winning musicians in attendance Guests can anticipate thrilling interaction and interviews with the artists throughout the week.
Beautiful accommodations, panoramic views and superior restaurants.
All above and more is waiting for you on this glorious cruise!
Itinerary
PORTS 'O CALL
We realize that the ports 'o call don't matter near as much as the awesome line-up, and all their glorious music; yet still, it's always great to know:
WHERE ARE WE GOING?
Ft. Lauderdale
Grand Turk, Turks & Caicos * San Juan, Puerto Rico   *  Road Town, Tortola, British Virgin Islands,  *  Half Moon Cay, Bahamas
Ft Lauderdale
Payment Plans
DETERMINE YOUR TOTAL CRUISE COST:
Cruise Rate Plus Additional Charge of $350/pp
The additional $350 per person covers each guest's obligation for
Port Charges, Taxes, Admin Fees, Gratuities/Tips, etc.
FAQ

These Frequently Asked Questions will be a growing list of the most commonly asked questions. Check back often for updates.
Q: Do you have a Military Discount?
A: Yes. To qualify for the Military Rate, you must:
be active duty, retired after 20 years of service, or medically discharged, and
provide a copy of your retired or active military ID card, or DD-214 showing Retired status or 20+ years of service.
Q: What is NOT included with the cruise?
A: Transfers from the Airport to the Cruise Ship, Dining in the specialty restaurants, Personal expenses such as photos, souvenirs & excursions, Airfare, Ground Transportation, Soft drinks and bottled water, Alcoholic beverages, Gambling, Pre-cruise or post-cruise hotels, Travel Insurance, Personal Training Sessions, Spa Services, Any event or activity off of the ship.
Q: What is included in my cruise rate?
A: Port charges, Taxes, Onboard Gratuities, Fuel Surcharge Gratuity, All performances, interviews, parties and events presented on the cruise, There are no performances, interviews or events that require tickets or any additional charge, All meals (Gourmet fare in the formal dining room, casual fare at multiple venues open for meals throughout the day).
There are charges for bottled beverages, including alcohol, and specialty coffee drinks.
The ship offers several specialty restaurants for which a surcharge is required.
24 Hour Room service, Non-Bottled Beverages (i.e. coffee, juices, tea), Fitness center, Pools, Hot tubs, Sauna, In room TV and movies, Full service room cleaning (twice a day), Daily in room fruit presentation.
Q. Is there Internet Access?
A: Yes, most all ships have Internet available and they make it available to you at a charge. They offer various packages and various rates. Check with the cruise line to find out the various packages they offer and the cost.
Q: Can I bring my iron?
A: No, sorry but cruise ships do not allow guests to bring irons onboard.
Q: How far is it from the Airport to the Cruise Port?
A: The Ft. Lauderdale Airport is less than 2 miles away from the cruise port (Port Everglades).
Q: Can I bring my own alcohol?
A: You can bring 1 bottle per person / 2 bottles per room of champagne or wine only. No other alcoholic beverages are allowed. Do not pack it in your luggage; it will be confiscated. Take it with you in your carry-on.
To inquire more, Please call the office at 585.653.8746.
Register
Do not miss and BOOK NOW!