Guaranteed best time of your life since you were eighteen years old.
Aboard one of the world's biggest and most imaginative maritime marvels – Royal Caribbean's Independence of the SeasSM !
When you aren't rocking out to some great rock 'n roll music in Alhambra Theatre, Studio B or up on the Pool Deck, this Royal Caribbean cruise ship provides an unlimited supply of adventure.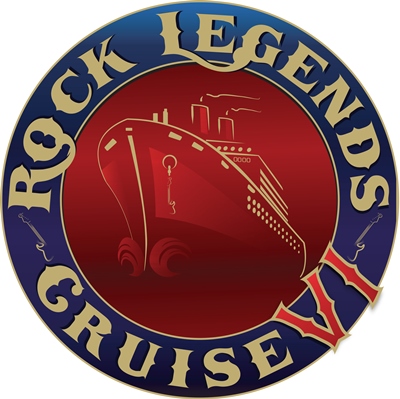 Ports/Itinerary
Cruise Dates & Ports
Day 1 >  Welcome Aboard Rock Legends Cruise VII on Royal Caribbean's Independence of the Seas!
Date:  Thursday, February 14, 2019
Departure Port:  Port Everglades, Fort Lauderdale, Florida
Passenger Boarding:  Between 1:00 and 3:30 pm
Ship Departure:  5:30 pm
Day 2 >  Rockin' Out on the Open Sea!
Date:  Friday, February 15, 2019
Day 3 >  Port of Call:  Costa Maya, Mexico
Date:  Saturday, February 16, 2019
Arrival:  10:00 am
Departure:  4:00 pm
Day 4 >  More Rockin' and Rollin' at Sea!
Date:  Sunday, February 17, 2019
Day 5 >  Port of Arrival:  Fort Lauderdale, Florida
Date:  Monday, February 18, 2019
Arrival:  7:00 am
*Itinerary and times are subject to change.
Rates/Terms Payment Plans
Cabin Prices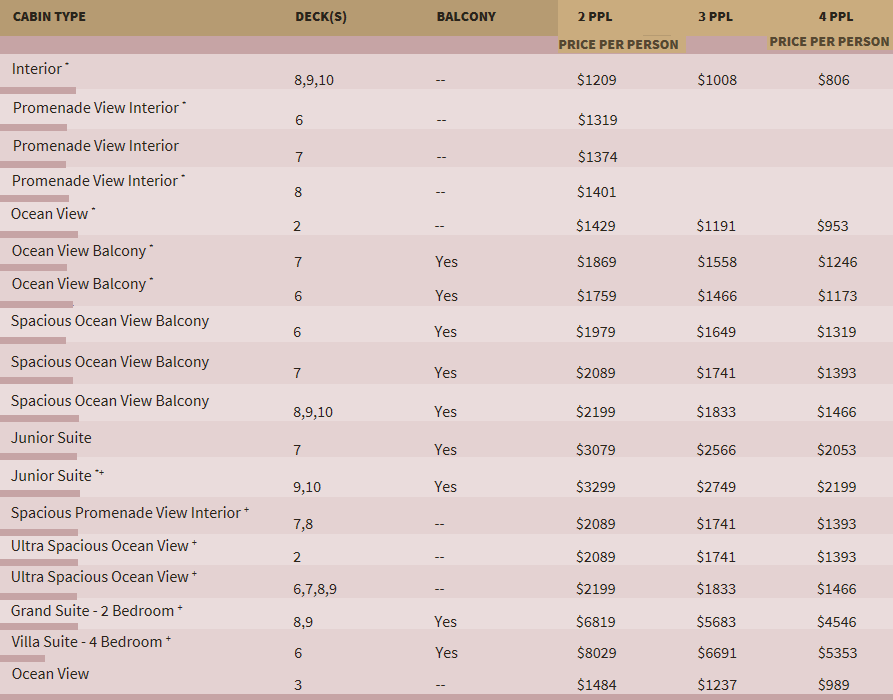 Your per person price includes:
Shipboard accommodations
Ocean transportation
All meals and snacks including:

breakfast *
lunch *
dinner *
complimentary 24-hour room service (late night nominal charge)
* As served in one of several main dining facilities. Please note dining at some specialty restaurants is not included.
Concert admissions
Some beverages (iced tea, some juices, American coffee, etc.)
Most onboard entertainment
Activities including the FlowRider® surf simulator, rock climbing, mini golf, pools, cantilevered whirlpools, Fitness Center, and a full-size volleyball / basketball court
Your charitable donation to Native American Heritage Association (included as part of the price)
An additional $210 per person is added to your total at the time of booking to cover taxes and port fees
What's NOT Included
Please note the following are not included in the package prices:
Air transportation
Transfers (to or from airport/hotel and ship)
Items of a personal nature, such as shore and land excursions
Photographs
Medical services
Specialty restaurant dining
Alcoholic beverages
Sodas and bottled water
Non-alcoholic beverages (excluding water, lemonade and iced tea)
Specialty coffees
Goods purchased onboard (duty-free gift shops, auctions, etc.)
Spa and salon services
Gambling
Shore Excursions
Laundry and dry cleaning services
Internet access
Ship to shore telephone calls
Royal Caribbean automatically adds gratuities to each guest's cabin account (SeaPass®) on a daily basis. Effective on cruises departing on or after May 1, 2016, for standard cabin guests the charge is $13.50 per person, per day which comes to $54.00 total per person for the entire cruise. For Suite guests the charge is $16.50 per person, per day, which comes to $66.00 total per person for the entire cruise. These mandatory gratuities are for the maître d' and his assistants, your waiters and busboys, buffet staff, stateroom attendants, housekeeping services, room service and bellboys. Casino dealers and spa personnel are not included since not all guests will utilize those services. A 15% gratuity is automatically added to bar service beverages, minibar items, and spa and salon services. These gratuities may be itemized on your receipt.
Ship/Cabins Deck Plan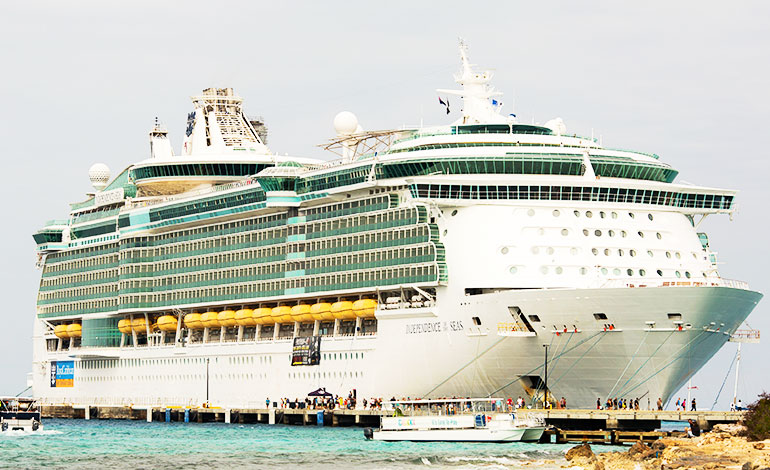 Say hello to one of the world's biggest and most imaginative maritime marvels – Royal Caribbean's Independence of the SeasSM !
When you aren't rocking out to some great rock 'n roll music in Alhambra Theatre, Studio B or up on the Pool Deck, this Royal Caribbean cruise ship provides an unlimited supply of adventure.
Independence of the Seas Highlights
• FlowRider® Surf Simulator
• Cantilevered Whirlpools
• Solarium Pool
• Rock-climbing Wall
• Royal Promenade Shops
• Wi-Fi Internet Access
• Flat-screen TVs in every stateroom
• Multiple Bars and Lounges
• Full-service Vitality at Sea Spa
• State-of-the-art Fitness Center
• Full-size Everlast Boxing Ring
• Casino Royale℠
• Full-size Sports Court
• 9-hole Miniature Golf Course
• Johnny Rockets® '50s-style Restaurant
• Giovanni's Italian Restaurant
• Chops Grille
• Ben & Jerry's® Ice Cream
• Cupcake Cupboard
• Vintages Wine Bar
• Boleros Latin-themed Lounge
• Sorrento's Pizza
The Independence of the Seas from Royal Caribbean is one of the biggest, fastest and most luxurious passenger vessels in service today. It is served by a crew of 1,360 on 15 decks. With a gross tonnage of 154,407, it can truly be said that the rock-themed benefit voyage will be a "heavy" experience for both bands and fans. The ship, almost as long as four football fields, cruises at 21.6 knots and is scheduled for a port stop in Cozumel, Mexico.
FAQ

These Frequently Asked Questions will be a growing list of the most commonly asked questions. Check back often for updates.
Q: Do you have a Military Discount?
A: Yes. To qualify for the Military Rate, you must:
be active duty, retired after 20 years of service, or medically discharged, and
provide a copy of your retired or active military ID card, or DD-214 showing Retired status or 20+ years of service.
Q: What is NOT included with the cruise?
A: Transfers from the Airport to the Cruise Ship, Dining in the specialty restaurants, Personal expenses such as photos, souvenirs & excursions, Airfare, Ground Transportation, Soft drinks and bottled water, Alcoholic beverages, Gambling, Pre-cruise or post-cruise hotels, Travel Insurance, Personal Training Sessions, Spa Services, Any event or activity off of the ship.
Q: What is included in my cruise rate?
A: Port charges, Taxes, Onboard Gratuities, Fuel Surcharge Gratuity, All performances, interviews, parties and events presented on the cruise, There are no performances, interviews or events that require tickets or any additional charge, All meals (Gourmet fare in the formal dining room, casual fare at multiple venues open for meals throughout the day).
There are charges for bottled beverages, including alcohol, and specialty coffee drinks.
The ship offers several specialty restaurants for which a surcharge is required.
24 Hour Room service, Non-Bottled Beverages (i.e. coffee, juices, tea), Fitness center, Pools, Hot tubs, Sauna, In room TV and movies, Full service room cleaning (twice a day), Daily in room fruit presentation.
Q. Is there Internet Access?
A: Yes, most all ships have Internet available and they make it available to you at a charge. They offer various packages and various rates. Check with the cruise line to find out the various packages they offer and the cost.
Q: Can I bring my iron?
A: No, sorry but cruise ships do not allow guests to bring irons onboard.
Q: How far is it from the Airport to the Cruise Port?
A: The Ft. Lauderdale Airport is less than 2 miles away from the cruise port (Port Everglades).
Q: Can I bring my own alcohol?
A: You can bring 1 bottle per person / 2 bottles per room of champagne or wine only. No other alcoholic beverages are allowed. Do not pack it in your luggage; it will be confiscated. Take it with you in your carry-on.
To inquire more, Please call the office at 585.653.8746.