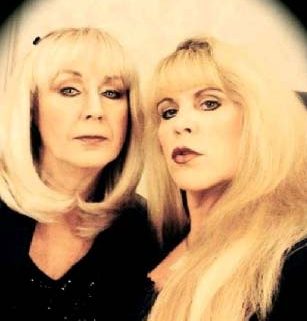 A Memphis, TN native, music was a big part of Julie's family. Winning her first performance contests at the age of 5, Julie has been on stage ever since. Julie has studied several forms of dance including ballet, tap, jazz, and interpretive and performed as a professional dancer for many years. She was a drama major in college, received vocal training, and was an accomplished gymnast. Julie has spent several years in Las Vegas performing in shows like "My Generation", "Melinda, First Lady of Magic" and "Legends in Concert" frequently touring all over the US and Canada.
People have always told her how much she resembled the legendary Stevie Nicks, so rising to the challenge, for some years now she has put on the world's most accurate recreation of Stevie in the years of her prime. Her training as an actress has helped her create this tribute to the uncontested "Queen of Rock 'n Roll." With her ethereal mystical image and poetic songs, Julie strongly feels Stevie Nicks' music is and always will be legendary.
While Julie is a recording artist in her own right, she feels songs like Rhiannon, Dreams, Sara, and Gypsy will inspire decades of music lovers to come, so being "Nearly Nicks" will likely always be part of her act. Julie has performed internationally and all over the US, from extended contracts with a Southern California casino to selling out seven nights in a row at a Boston concert hall. She has performed in venues small and large, from casino show halls to places like the Morton H. Myerson Symphony Centre with full symphonic orchestral backing.
Of recent, much of her attention has gone to recording her own music. She counts many of America's most famous entertainers as personal friends and as a result, her musicians are among the best in the world. On her latest recording, "Rock On ~ Fearless Journey" she's joined the many other classic rock veterans going the Nashville route and deciding to record with something slightly "country" mixed into her naturally bluesy and classic rock delivery. The recording is working its way up the charts and playing on over 4,000 radio stations worldwide. Julie and her musical partner, Joy Fleming, entertain audiences with their amazing duo Ultimate '70s Ladies of Rock!
Joy Fleming
Joy Fleming, born in Mt. Clemens, Michigan, started singing at five years old.  At the age of 12, she began playing guitar and helped produce her own radio program which aired once a week and recorded her first record.  By the time she was 13, she was performing with the "Grand Ole Opry" road shows and singing with country legendary artists such as Loretta Lynn, Tex Ritter, Mel Tillis and many more.
Through the years, Joy's endeavors included Nashville recordings, variety show productions, movie theme tracks and jingles and has written, produced, directed and performed in her own one woman show, simply called "JOY".  In the last 10 years, she has been a cast member at many of the performing arts centers in the Orlando area and played major roles in various musical productions, including Hello Dolly, Damn Yankees, Godspell and The Gondoliers. Today, thanks to her musical partner Julie C. Myers, Joy is devoting her time and talents as a very proud member of the duo, Ultimate '70s Ladies of Rock!