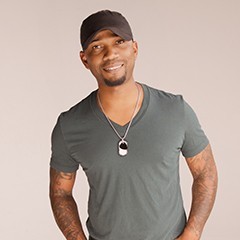 Is it premature to see Hall of Fame material in a guy who's just releasing his first album?
Not if that guy is Tony Jackson.
To put it plainly, Jackson is one of the most gifted singers ever to grace country music.
His initial videos from the album have excited over 25 Million Facebook views seemingly overnight, while Jackson tours tirelessly in support of the record.
The respect Jackson has already earned within the music community is evident throughout Tony Jackson, as the new album is titled. It features songs and/or performances by Rock and Roll Hall of Fame members John Sebastian, Steve Cropper and Dr. John "Mac" Rebennack, Country Music Hall of Famers Vince Gill, Bill Anderson and Conway Twitty and Nashville Songwriters Hall of Fame luminary Norro Wilson.
It is the ease with which Jackson makes every song—even the familiar ones—distinctly his own that sets him apart. Who else would dare to try and then succeed in bringing a fresh layer of emotional urgency to such a classic as George Jones' "The Grand Tour" or Conway Twitty's eternal "It's Only Make Believe"?
On the first-time and lesser known songs, Jackson mints his own classics. With its sweeping steel guitar flourishes and ambient barroom clatter, he transforms John Sebastian and Phil Galdston's "Last Call" into the sweetest, most affectionate separation ballad imaginable. With reverence and a twinkle in his eye, he enlists Sebastian and Vince Gill in revivifying (after 50 years) the Lovin' Spoonful's 1966 romp, "Nashville Cats." "When asked if we should recut the song," Sebastian begins, "I said absolutely but we have to get Vince Gill, Paul Franklin and today's real Nashville Cats in on the session and fortunately it was preserved on video," he beams.
After capturing perfectly, the excitement of new love in Bill Anderson's "I Didn't Wake Up This Morning," he moves on to a memory-stirring homage to Merle Haggard, Hank Williams Jr. and Willie Nelson in "They Lived It Up," a lyrical scrapbook from Anderson and Bobby Tomberlin.
Jackson shines as a keen-eyed songwriter in his own right with such memorable excursions as "Drink By Drink," "Old Porch Swing," and "She's Taking Me Home."
TONY JACKSON
From start to finish, Tony Jackson stands out as a "discovery" album, the kind you listen to with such delight that you have to recommend it to friends. And hundreds of thousands have done just that.
Jackson is currently a headliner on the Old Dominion Barn Dance in Richmond, Virginia, and is almost certainly the only major bank executive ever to abandon a prominent IT job in finance at a Fortune 500 company to embark on a career in country music. But he didn't grow up a country fan.
The son of a Navy man, he led a base-to-base existence, at one point living with his family in Rota, Spain for three years. His early musical background was sketchy at best. "I sang 'White Christmas' in the Christmas play in the sixth grade," he recalls. "Everybody seemed to love it, but I was a wreck. My mother forced me to sing in the church choir, but I was kind of buried in the voices along with everybody else." This was basically his entire musical resume until ten or so years ago when a friend whose band had lost its lead singer asked Jackson to try out for the spot. "I did," he says, "and I was hooked after that."
Two weeks after graduating from high school, Jackson joined the Marines. "I told my dad I was joining because I was sick of taking orders," he says with a wry grin. There was as much getting-ahead as gung-ho in Jackson's enlistment. "I was a computer and electronics geek as a teenager," he says. "When I talked to the recruiter, he told me the Marine Corps had just started a computer science school in Quantico, Virginia. Fortunately, I scored high enough on the entrance exam to go to that school." It was a smart move. When he finished service, a prominent bank in Richmond snapped him up to work in its Information Technology division, initially assigning him the lowly chore of re-setting passwords. "I was way overqualified," he says, "so I got promoted fast. I was a senior vice president by my early 30s."
It was while in the Marines that he first started paying serious attention to country music. "My mother listened only to gospel," he says. "My dad was into jazz, hip hop, R&B, new jack swing—stuff like that, but Armed Forces Radio played everything. When I was living in Spain—when I was 10 to 13—Randy Travis came over there on a USO tour. Some friends and I were out there early when they were setting up the stage, and we actually got to talk to him before we realized he was the guy who'd be performing later. He was really cool to us. In the Marine Corps, when my friends and I played music for each other, we were all homesick. So when you'd listen to these country songs that talked about family and home and heartbreak, it would really grab you."
A song that particularly appealed to Jackson was George Jones' heartbreaking 1974 hit, "The Grand Tour." When Jones died, Jackson and some friends went into a Richmond studio and recorded it. In the process, they also made a performance video that eventually wound up on YouTube. By sheer accident, singer Donna Dean Stevens saw the video and instantly decided Jackson should do "The Grand Tour" on the Old Dominion Barn Dance, which she had just resurrected. After she witnessed Jackson's standing ovation—an honor that hadn't yet been accorded to any of the show's headliners—she offered to co-manage and co-produce him with noted talent manager Jim Della Croce. A commanding performer in her own right, Dean
Stevens recorded for Mercury Records in Nashville as Donna Meade. She is also the widow of Country Music Hall of Fame member Jimmy Dean and a zealous guardian of his vast musical legacy.
Dean Stevens and Della Croce then whisked Jackson to Nashville, where he recorded most of Tony Jackson at the hallowed RCA Records Studios. In one of his best-loved songs, George Jones considered the dwindling ranks of country superstars and asked plaintively "Who's Gonna Fill Their Shoes."
Tony Jackson volunteering for duty.
The debut album TONY JACKSON was released May 5, 2017 on DDS Entertainment/Sony- RED with full marketing, publicity and tour support across nationwide.