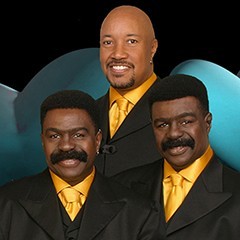 In the annals of R&B history, the Whispers have earned a solid and memorable position. One of the world's longest-running soul vocals groups, the Whispers are celebrating over fifty years in the industry. They are known for their smooth soulful ballads and remain one of the premier R&B groups to ever grace the stage. Their musical success can be attributed to a careful balance of R & B, disco, jazz, and pop to the delight of millions of fans. They have had thirty-three top ten hits and over twenty Billboard charted albums over a span of five decades.
The Whispers began their legendary and timeless career in 1964 when they first organized at Jordan high school in Watts, producing a string of hits continuing over the last five decades such as "Seems Like I Gotta Do Wrong", "And the Beat Goes On', "Rock Steady", "A Song For Donny", and "Lady". They emerged as the leading romantic singers of their generation, racking up one gold album after another and charting 46 Billboard hits. They are arguably the most celebrated R&B balladeers of their generation.
The first group to be signed to Soul Train Records, earning most of their greatest hits with Solar Records. The Whispers' music has been sampled over 131 times and their music has been featured in over 600 musical compilations. Their music has been heard on movie sound tracks such as "Waiting to Exhale", "Madea's Family Reunion", and "Diary of a Mad Black Woman". They sang the title track on Jay Leno's movie soundtrack "Collision Course". The group has not made any personnel changes since 1973 when Leaveil Degree replaced Gordy Harmon; they still consist of Walter Scott, Wallace Scott, and Leaveil Degree. The recent passing of Nicholas Caldwell in 2016 leaves them as a trio, but still stellar and powerful in their stage presence. They are one of only a few "old school" groups that can boast of having over 50 years in the industry with a worldwide fan base, maintaining their vocal dominance and original members.
Their five decades of accomplishments have been acknowledged by induction into the Vocal Group Hall of Fame, presentation of the Governor's Award by the San Francisco Chapter of the Grammy Awards, an NAACP Image Award, induction into the Bay Area Blues Society Hall of Fame, and Rhythm and Blues Hall of fame. The Black Music Academy of America selected the Whispers to receive their "Living Legends" award. They still provide dynamic, stellar performances to sell-out crowds around the globe.