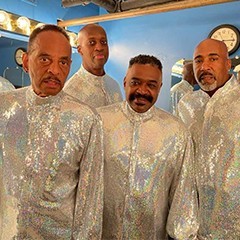 Originally hailing from Philadelphia, Earl Young, Ron Baker and Norman Harris formed THE TRAMMPS in 1972. From that time forward, their unique blend of pulsating beats, catchy melodies and vocal harmonies embodied the essence of a style that grew to define an era.
Known as "The Group" to dance music devotees, THE TRAMMPS had three smash singles with Buddah Records, including "Zing Went The Strings Of My Heart" (Buddah, 1972, single), long before that label ever released an LP. It was only after the huge success of "Where Do We Go From Here" (Golden Fleece/Columbia, 1976), which scored big with its title track, that Buddah finally heard the cry and THE TRAMMPS' "Legendary Zing Album" (Buddah), was released in 1976. It included their earlier hits "Zing Went The Strings Of My Heart," "Pray All You Sinners" and "Sixty Minute Man," as well as the previously unreleased "Hold Back The Night," which went on to become one of the group's biggest hits. These LPs would prove to be the first of many top-selling and award-winning albums for THE TRAMMPS, long considered the "best disco group" of all time!
"Where The Happy People Go" was their first LP release for Atlantic (1976). It contained the hits "Disco Party," "Hooked For Life" and "Soul Searchin' Time." The album was showered with honors: Best Disco Album, Best Disco Artist, Best Disco Single and Best Disco Single Unreleased (Billboard,1976).
THE TRAMMPS were now at the top of their form. They continued to keep up a busy recording schedule while fast becoming one of the most sought-after touring acts of the period. Their next release, "Disco Inferno," (Atlantic, 1977) put THE TRAMMPS over the top, earning them their first gold. The title track (of the same name) emerged as the disco party anthem of the '70s.
Keeping with the times, Paramount Pictures produced Saturday Night Fever (1978), the ultimate narrative of the disco era. The film would not have been complete without John Travolta, a white suit, THE TRAMMPS and "Disco Inferno" (RSO Records, Soundtrack, 1978). The soundtrack brought the group a Grammy (Best Album) and went on to become one of the top ten best-selling albums, best-selling soundtracks and the #1 best-selling double album in music history.
Earl Young has continued to bring the very best of THE TRAMMPS' legendary dance music to audiences everywhere. From The White House to Disneyland, Madison Square Garden to Hammersmith Odeon, Brazil to Japan…to those of us who survived the 70's and to those who are enjoying it "again for the first time"…"What goes around comes around," says Earl, "and it's THE TRAMMPS' time once again!"
THE TRAMMPS are enjoying the re-release of "Disco Inferno" on compilation albums. It can also be heard in the feature films "Ghostbusters," "What's Love Got To Do With It," "Carlito's Way," and "Kingpin," among others.