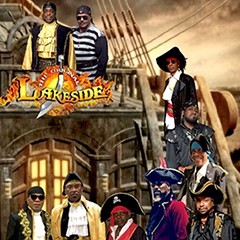 The Original Lakeside journey began when a group of high school students from Datyon Ohio formed a signing group and backup band which later morphed into a Funk band after landing a recording deal with Solar Records. Still maintaining the dynamic vocal abilities that gave them an edge on most of the bands when it came to vocals and that edge still holds true today having four members singing vocals from ballads with the best of them to that funky sound The Original Lakeside is known for. Made up of talented musicians and a ferocious stamina that has sustained them for more than 40 years, a feat not many bands can boast about today while still maintaining seven of the original nine members that recorded every records. Formerly known as the Ohio Lakeside Express, their travels have taken them throughout the world.
Lakeside was the first band to successfully use a "theme" for each album cover which created notoriety in the music industry and the Lakeside fan base always wondering what they were going to come out with next. Starting off with a Robin Hood theme, their album "A Shot of Love" scored them their first hit "All The Way Live". Other themes as Rough Riders, cowboys, Elliott Ness and the Untouchables and those Funky Pirates are just a few of the group's unforgettable themes.
Recording mogul Dick Griffey of Solar felt the Lakeside vibe giving them free reign in the studio which prompted many of the mega hits that took the music industry by storm. The sound of funk hits such as "All The Way Live", "Raid" and "Outrageous", are known to draw people to the dance floor like a magnet to metal. The signature sound of the lead guitar on the hit "Something About That Woman", alarm your funk sensors to take immediate notice! The double bass sound was not only their signature, but also the foundation for all of The Original Lakeside's dance hits. Lakeside's soulful ballads demonstrate their versatility, style and perfect mix of vocals and band as recorded on the remake of the Beatle's classic hit "I Wanna Hold Your Hand". And of course, there is the Lakeside anthem, Fantastic Voyage that sets the band apart from all the rest. Rerecorded by Coolio, and many others.
The longevity of The Original Lakeside comes from the power of commitment, dedication, positivity and RESPECT FOR THE FUNK.