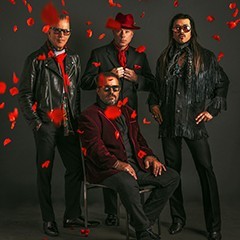 The Mavericks – masters of country-Latin rock'n'roll, born in the rich cultural mix of Miami then tempered in Nashville's country hothouse – rode high in the country and rock charts of the 1990s with culture-crossing hits like 'What A Crying Shame' and 'All You Ever Do Is Bring Me Down'. Then they conquered Europe with the titanic feel-good party classic 'Dance The Night Away', a 400,000-seller in the UK. Yet nothing lasts forever, and in 2004 The Mavericks went on hiatus while frontman Raul Malo explored new musical avenues.
But since a reunion in 2012, this most singular of bands has re-established itself as one of the most exciting and joyfully entertaining acts on touring and festival circuit across the planet. It's a reputation based on their irrepressible mix of country, Tex-Mex, rockabilly and Latino sounds plus a riotously entertaining, world-renowned live show. A Mavericks gig is a guaranteed party night encompassing everything from the essential 'Dance The Night Away' to the infectious Tejano-ska hybrid of 'Back In Your Arms Again' – and, on occasion, even wild cards like a Mavericks take on The Beatles 'Back In The USSR'.
The Mavericks are true American originals, heirs to the great songwriting traditions of Cuba and Miami, of Nashville and San Antonio and Memphis. Now, on their 30th anniversary as a band, they're back to remind the world why they're so good.
"Being away from the band felt like being in a kung fu movie where you go into the mountains on a mystical path to gain special wisdom," laughs singer, guitarist, key songwriter and founder Mavericks member Raul Malo. "We needed that time away, and a big dose of humility too. It was good for us. That humility and that understanding of each other is what informs the band now. I think it makes us by far the best incarnation of this band yet."
Raul and drummer Paul Deakin were there at the beginning, in Miami, Florida, where Raul was born and Paul moved aged 8 years old. The melting pot of this great city where Cuban, Caribbean, Latino and rock'n'roll cultures all clash gave The Mavericks their musical DNA. In the streets Raul would hear marching band music and salsa, and at home the magnificence of his mom's opera records.
"There was a blind guy who sat outside the grocery store playing accordion music for nickels and quarters," he recalls. "It was some of the most beautiful music I'd ever heard. I loved the drama of it. Later I realized he was playing all the Italian arias that my mom was playing at home…"
Rock'n'roll came to him through Don Kirshner's Rock Concert or The Midnight Special on TV. But the record that really changed his life was Elvis Presley's operatic epic of love and longing 'It's Now or Never'. "That connected to every kind of music I liked from classical to The Beatles," he says. "I've spent my life emulating that record."
"And that's been one of the keys of our longevity," adds Paul, who took the University of Miami's famous jazz course before co-founding The Mavericks with Raul and friends. "Everything Raul has listened to goes into the music." They started out aiming to be a country band, mixing Hank Williams with Johnny Cash or Patsy Cline. But as time went by other influences came in from Raul's first-generation Cuban-American stylings to Sinatra. And when they played live it wasn't to country audiences but to the punk and alternative crowds with acts like Marilyn Manson. Anything went.
"We found that our recipe for success was the same thing that sustained us musically: mix it up," says Paul. "Try things. And we found that nobody sounded like us." There was something special in his musical partner too. "Some people say Raul's become the voice of a generation," says Paul. "I'd agree with that."
The Mavericks' rise in the 90s was meteoric. Within a year of forming in 1989 they had signed to MCA Nashville and in 1992 they released their major label debut From Hell To Paradise. There were hits on the radio and in the Billboard charts and, from 1994 to 1996, a string of Country Music Awards. Album number three What A Crying Shame went US Platinum in 1994 and the following year they won a Grammy for their single 'Here Comes The Rain'. And if the USA cooled a little on The Mavericks by the time of their fifth album Trampoline, 1998's departure in style for the band, the rest of the world opened up to the classic 'Dance The Night Away' – a bona fide worldwide smash which remains a party standard to this day.
For Raul, the highlights of The Mavericks' first go-round included a six-night run at London's iconic Royal Albert Hall and making the video for their hit 'All You Ever Do Is Bring Me Down' in Santa Fé with the legendary Norteño, Tejano and Tex-Mex accordionist Flaco Jiménez ("that was special"). Paul's greatest memories included playing on the AIDS benefit album 'Red Hot + Country' ("I'm in the studio with Carl Perkins and Duane Eddy!") and opening for Robert Plant at the New Orleans Jazz Festival. "To me, this guy is just a god," he says, "and he's running over to us to say our 'In Time' record was his favorite of the year? It was just amazing."
But success takes its toll. "Looking back, none of us were ready for it," says Raul. "It was so fast and intense that we kind of got burned out with one another. The band just started to fall apart from within." Mismanagement of money had added to the pressure by the early 2000s. "It became an untenable situation," explains Raul. "Our resources and goodwill started to run out. Looking back, we just didn't have the knowledge and experience to deal with how big it got, and how fast."
"I think Raul was creatively restless too," says Paul. He'd gotten to do some new stuff on Trampoline but the itch to explore was hard to ignore. "Raul just wanted to step out and try new things, like playing with other people. He wanted to stretch out and it was the right time. It wasn't that he didn't want to do The Mavericks, it was a desire to try new things."
Not long after the release of their 2003 album The Mavericks the band split. Raul Malo went on to a series of solo and band projects including time with the acclaimed Latino supergroup Los Super Seven alongside Los Lobos, Caetano Veloso, Lyle Lovett and Calexico. Paul stepped away to tour with different bands and fulfilled a lifelong ambition to train as a carpenter, building a successful company from scratch (he's still doing it, and recently put in a fine set of sliding doors for Mavericks sax player Max Abrams. Call for a quote).
For extrovert guitarist Eddie Perez, who'd only joined The Mavericks in 2003, the split was kind of a surprise. "I never felt excluded in the band, but I was born and raised in Los Angeles not Miami, and I was stepping into something that already existed," he explains. "I'd jumped on to a moving train with its own drama that I knew nothing about. I was just glad to be playing music with these guys, I was the youngest guy in the band – and I was learning.
"Looking back I guess I wasn't as grateful for the opportunity as I should have been. At the time I didn't feel I could put anything of myself into it. But I always felt that one day if we could get The Mavericks back together, I'd try to inject more of myself into the band."
For Raul, The Mavericks' hiatus years became "a kind of musical quest… I threw myself into the lion's den." But playing with other people gave him some perspective on why he does what he does. There were rumors that the band would get back together and though they weren't true, he kept them at the back of his mind as a 'What If?' Then the offers of touring deals became more real, and he realized that the songs he was writing had more and more of a Mavericks vibe. "It made me think, Damn, is this the time?"
When his friend and fellow singer-songwriter Seth Walker asked him to help finish a song of his, the signs became unmistakable. "I was like you're shitting me," Raul laughs. "The Mavericks are going to get back together with a song called 'Back In Your Arms Again'? Sometimes life gives you signs and it's up to you if you read them." Within a few months, management had orchestrated a reunion tour, the band members sat down and laid down some new rules… "and here we are".
The band was clear from Day One that this was not some nostalgia trip. The Mavericks were back for real. When the band sat down for their first dinner together in many years, Raul was clear that he didn't just want to play the old stuff this time. He'd written a really great record, a Mavericks record. Did they want to do it? Scott Borchetta's Big Machine Records, home of Taylor Swift, were interested and within two weeks the reformed Mavericks were in the studio with Niko Bolas producing. The first track they did was 'Back In Your Arms Again'.
"From that note when we first played together, those eight years we'd been apart were just wiped away," says Paul Deakin. "Whatever that indispensable connection we had, it's right there."
The band are now four albums into their second phase and thoroughly enjoying the new world of the music business, where it's all about the live performance – an arena where The Mavericks always excelled. A Mavericks show mixes the best of the past with the new material and the fans love the latter as much – if not more – than the former.
For Eddie Perez it's more fun this time around. "In all my years of being a touring musician this moment is the most special one," he says. "It feels like this band are doing things that are right. Being kinder to each other but challenging each other too, in the best way. We're grateful and we know that not too many bands get to come back and write their own ticket like we did.
"You have to work at it – even chemistry takes work. But if you stay focused on the bigger picture, you can make it work. What's different now is that we recognize that everything everyone says is for the best and the betterment of the band."
And now the band is in charge of its destiny. They run their own label Mono Mundo Recordings, deal directly with their booking agents, develop their own artists and choose their own path. They've long transcended the country bracket and now play eclectic festivals with artists from across the board – in 2019 they'll again perform at Glastonbury, perhaps the planet's most diverse musical event.
Thirty years in, The Mavericks are doing it their own way – and enjoying it. "Musically it's way more interesting now and I love that the fans will go with us wherever we're going," says Raul. "We have a great canvas that we can use at will, and that's the ultimate reward for an artist. There's nothing more satisfying."
"And the best thing is," adds soft-spoken keyboard player Jerry Dale McFadden, "we've stayed true to the name of the band. I don't know if these guys knew, when they chose the name just how maverick The Mavericks would turn out to be. But we are.
"I loved the past with The Mavericks," says Jerry Dale, who joined The Mavericks in 1994 and stayed through the highs and lows. "But we're a better band now than we were then. No question."