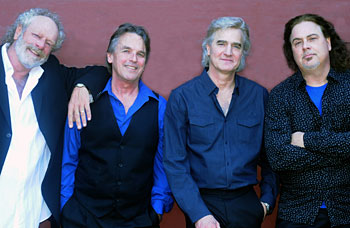 The Grass Roots are a highly successful rock and roll group that consistently produced quality music in their heyday from 1966 to 1975. Although they never attained a number one hit on the charts, they were consistently in the top end of popular music in the turbulent rock music scene. Radio play was a big factor in their history. It was not easily tracked to properly reflect on the charts, in those years. They managed to be one of the top picks of disc jockeys and enjoyed frequent requests from listeners.
From 1967 to 1972, The Grass Roots set a record for being on the Billboard charts 307 straight weeks. They are one of only nine bands that have charted twenty nine or more Top 100 Billboard singles. They have sold over twenty million records worldwide. They hold the all time attendance record for a one act, the US concert of 600,000 people on July 4th, 1982 in Washington, DC. They have appeared on over 50 national television shows. Many of their hits are still seeing heavy rotation on oldies stations to this day. They achieved one platinum album, two gold albums, thirteen gold singles and charted singles a total of twenty nine times.
In their home state of California, they were rock and roll legends and enjoyed heavy rotation of their songs as the local heroes. They managed to consistently satisfy their listeners through several lineups of musicians, all producing a great sound to carry on the tradition. The Grass Roots benefited from outstanding production and recording techniques compliments of Dunhill Records and their producers P.F. Sloan & Steve Barri. Their recordings stand up to the test of time.
MIDNIGHT CONFESSIONS
TEMPTATION EYES
SOONER OR LATER
TWO DIVIDED BY LOVE
LET'S LIVE FOR TODAY
I'D WAIT A MILLION YEARS
HEAVEN KNOWS
BELLA LINDA