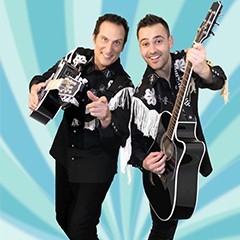 In 1957, teens Phil and Don Everly supercharged the vocal sound of Rock'n'Roll with "Bye Bye Love" and "Wake Up Little Susie", unleashing the sparkling vocal harmonies that would influence The Beatles, Simon & Garfunkel, The Beach Boys, The Hollies, The Eagles, Peter Paul & Mary, and the Bee Gees.
Now, six decades later, two acclaimed singer-songwriters with a mind-bending three-decade age difference combine millennial pluck with baby-boomer sass to present The Everly Set: Sean Altman & Jack Skuller Celebrate The Everly Brothers, featuring Bye Bye Love, Wake Up Little Susie, Cathy's Clown, All I Have To Do Is Dream, When Will I Be Loved, Crying In The Rain, Love Hurts, Bird Dog, Claudette, Walk Right Back, and more hits and rarities in concert.
Aged-but-well-preserved Altman (Rockapella founder, Carmen Sandiego theme song composer) and 20-something ex-teen idol guitar-slinger Skuller (ex-Disney recording artist, Songwriters Hall Of Fame "Holly Prize") met on stage at the famed NYC tribute series "The Loser's Lounge" in 2010 when Jack had just celebrated his 14th birthday and Sean had just celebrated his shiny new AARP card. Their December-January musical bromance blossomed in 2017, when—as a lark—they learned a bunch of Everly Brothers songs for a one-off gig in Manhattan. Sean & Jack effectively channeled Phil & Don, and the audience effectively channeled nostalgic hysteria. Within months The Everly Set had bought the first of ELEVEN sets of matching western shirts and hit the road.