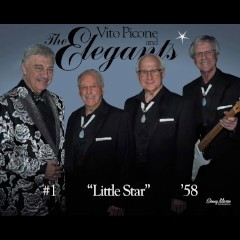 The Elegants, still based on Staten Island, New York, were formed in 1956 by their lead singer, Vito Picone, who also co-wrote their #1 hit single "Little Star."
The record sold over 2-1/2 million copies world-wide in 1958 on ABC Paramount's subsidiary label "APT." The group was named the #1 R&B and the #1 Pop artists of the year and adorned the cover of Cashbox Magazine receiving their gold record.
The group toured throughout the United States, Canada and Mexico in the late fifties and early sixties along with the early legends of their time until the U.S. Army and The Beatles changed the direction of their lives and careers.
Ten years later a nostalgic atmosphere gripped the country and there was a second coming for Doo-Wop sounds such as The Elegants had contributed in the fifties.
Aside from doubling their original record sales since 1958, the group has received the Million-Aires award for "Little Star" airing 1 million times on the radio. Their song has been immortalized in the Rock and Roll Hall Of Fame was featured in numerous movies, and also in HBO's blockbuster series, "The Sopranos" .
They have appeared 6 times at Radio City Music Hall, were among the initial Doo Wop artists to be presented at Carnegie Hall , the first Doo-Wop group ever to perform at Lincoln Center , and Vito's cameo appearance in the Oscar winning movie "Goodfellas" (Vito is in the Billy Batts scene at the end of the bar) and also in Martin Scorcese's mega hit "The Irishman" (as The Villa Roma restaurant's manager), top the list of their many outstanding accomplishments.
Vito Picone (lead vocalist), Jimmy Moschello (baritone), Nino Amato (1st. tenor), Bruce "Sonny" Copp (2nd tenor and rhythm guitarist) have been acclaimed as one of the most entertaining acts representing the wonderful era of the 50's and 60's.