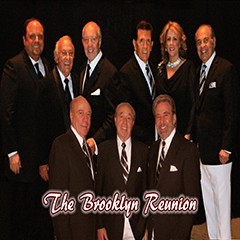 In the fifties the streets of Brooklyn, NY were alive with the harmonies of teenagers wanting to become the next number one vocal group in America. Alan Freed's Rock and Roll radio show gave hope to these teenagers by playing the hit music of the time. Songs like Why Do Fools Fall in Love, Gloria, and Earth Angel, became the songs these groups would rehearse every night. One group, from the Bensonhurst section of Brooklyn who called themselves The Overons, had so many members singing harmony they decided to split into three groups. Since they were all neighborhood friends from childhood they made a promise to each other that whichever group became popular first would help the others. They picked three new group names; The Mystics, The Passions and The Classics.
In 1959, The Mystics auditioned for Jim Gribble who became their manager and signed them to a contract to record for Laurie Records. Their first record, "Hushabye" became a national million selling record. Staying true to their promise The Mystics brought The Passions to see Jim Gribble. They recorded their first record, Just to be with you" and it went to the top of the charts. The next group in the promise was the Classics and their recording of "Till Then" also went to the number one position.
Over the past 60 years the three groups remained friends, often working in each other's groups. In 1989 they formed The Brooklyn Reunion as part of a 30 year celebration of their friendship and performed together at Radio City Music Hall in New York City. This show received rave reviews and so they have continued to perform to the delight of audiences throughout the country.
The Brooklyn Reunion Show consists of the original members of each group individually performing selected material and then joining together as one group, sharing their music and experiences with the audience. The show is sprinkled with the type of humor that can only come from lifelong friendships and experiences. The finale is a heartwarming show of lasting friendship and song that will not be forgotten.