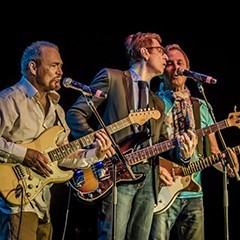 From the mid 60s into the 70s, there was no finer blue-eyed soul group than THE BOX TOPS, from Memphis, Tenn.
Formed in 1967, The BOX TOPS recorded a string of hits including the worldwide #1 megahit song, THE LETTER (Cashbox Record of the year 1967, and 4 weeks at NUMBER ONE)   and 7 additional TOP 40 hits including CRY LIKE A BABY, SOUL DEEP, NEON RAINBOW, CHOO CHOO TRAIN, SWEET CREAM LADIES-FORWARD MARCH, and TURN ON A DREAM.
In 2015, original bassist/vocalist BILL CUNNINGHAM, and original guitarist/vocalist GARY TALLEY teamed up with veteran music industry bandleader/manager RICK LEVY to bring the BOX TOPS music back to waiting audiences. In short order, they have performed to tens of thousands of fans all over the world, including The Happy Together Tour, Gottschalk's BIG 68 GERMAN TV Special, and on Nov 1 2018, the BOX TOPS were inducted into the MEMPHIS MUSIC HALL OF FAME.
THE BOX TOPS show highlights their hit records, and equally importantly, Memphis music of the 60s, including songs that influenced the members as young teens growing up in such a musical hotbed. The show is complete with a live horn section, vintage video projection, and promises to be a musical history lesson that is HIP!!  www.boxtops.com
RECENT HIGHLIGHTS
*2017 HAPPY TOGETHER TOUR
*2018 CONCERTS AT SEA,  GERMAN TV SPECIAL, MEMPHIS MUSIC HALL OF FAME INDUCTION
*2019 FLOWER POWER CRUISE,  TEXAS INTL POP FESTIVAL w zzTop, Chicago and more!