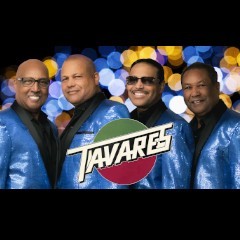 The story of Tavares is the inspirational tale of a band of young brothers bound not only by blood, prodigious talent, and a rich musical legacy, but by a fierce determination to succeed in the music business. Over two decades, the Tavares Brothers managed to place 8 singles on Billboard's Top 40, 12 Singles on the R&B Top 10 Chart (Including three #1 records), 3 Dance Chart Hits (1 at #3 and 2 at #1), 10 Hit Albums, and won a Grammy Award for their work on the soundtrack to Saturday Night Fever, (Recently certified 15 times Platinum). Although most resources refer to Tavares as a New Bedford, Massachusetts band and it is well known that the family lived in Southeastern Massachusetts at different times, it is equally well known that they spent a great deal of their early years in the Fox Point and South Providence neighborhoods of Providence, RI.
The Tavares Brothers started performing in 1959 as Chubby and The Turnpikes when the youngest brother was 9. P-Funk keyboardist/architect Bernie Worrell briefly joined the group in 1968 while attending the New England Conservatory Of Music. Future Aerosmith Drummer Joey Kramer appeared as the "token white-guy drummer" in a later incarnation called The Turnpikes from the Fall of 1969 until September 1970, when he was invited to join Aerosmith.
Chubby and The Turnpikes signed with Capitol Records in 1967 and had a couple of local hit records including "I Know The Inside Story" in 1967 and "Nothing But Promises" in 1968.
By 1973, they had changed their name to Tavares and scored their first R&B Top 10 (Pop Top 40) hit with "Check It Out", (produced by old friend Robert "Boogie" Bowles) and soon began charting regularly on the R&B and Pop Charts. Their first album included their brother Victor, who sang lead on "Check It Out", but dropped out of the group shortly afterward. In 1974, Tavares had a #1 R&B Hit with Hall & Oates's "She's Gone", (which became a hit for Hall & Oates as well two years later). Tavares followed up that success with "Remember What I Told You To Forget". Another old friend, Brian Panella had left Capitol Records and started his own management company and became the groups manager.
1975 turned out to be their most successful year chart-wise, with a Top 40 Pop Album (In The City) and their biggest hit, the Top 10 Pop/#1 R&B smash "It Only Takes a Minute", which was later successfully covered by both Jonathan King and Take That, and sampled by Jennifer Lopez. They parlayed this success into a spot as an opening act for The Jackson 5. KC and The Sunshine Band was also on this tour.. "It Only Takes a Minute" was followed by a string of hits: "Heaven Must Be Missing An Angel" (1976), "Don't Take Away The Music" (1976), and "Whodunnit" (1977, another #1 R&B Hit). In 1977 they also recorded "I Wanna See You Soon", a duet with Capitol labelmate Freda Payne which received airplay on BBC Radio 1 but failed to chart. Many of their hits, however, underplayed their R&B background and gave the the group the image of being a Disco Act. This perception was reinforced by their appearance on the soundtrack to the film Saturday Night Fever in 1977. Tavares recorded the Bee Gees song "More Than A Woman", and their version reached the Pop Top 40 that year. The soundtrack became one of the most successful in history, earning Tavares their only Grammy.
Later albums such a Madam Butterfly and Supercharged, strayed from the Disco format and were less successful on the Pop Chart (although they continued to have Top 10 R&B Hits such as "Never Had a Love Like This Before" and the popular sociopolitical "Bad Times" written by British singer-songwriter Gerard McMahon. At the start of the 1980s, Tavares left Capitol Records, signing with RCA. They had one last major hit, the ballad "A Penny For Your Thoughts", for which they were nominated for a Grammy in 1982; their last major release was "Words and Music" in 1983.
The family patriarch and father of all members of Tavares, Musician Feliciano "Flash" Tavares sadly passed away in 2008.
On May 3, 2014, Tavares performed a concert in their hometown of Providence, Rhode Island and the following day were inducted into the Rhode Island Music Hall of Fame. Along with Ralph, Chubby, Pooch, Butch and Tiny, brothers John and Victor were also honored for their contributions during the group's formative years.
Today, Tavares (Butch, Chubby, Tiny and Ralph) continues to tour the world and on April 16, 2017, they performed on the CBS Television Special "Stayin Alive, A musical salute to the music of The Bee Gee's", dueting with R&B star Jason Derulo on "More Than a Woman".
2018 continued to be a busy year for The Brothers as they continue to tour constantly domestically and Internationally. In March Tavares toured the UK as part of the "40 Years Of Disco" Arena Tour and in November they return to the UK as Special guests to the Four Tops and The Temptations "Together Again" Arena Tour.
2019 finds Tavares performing internationally including a headlining slot on the inaugural "Ultimate Disco Cruise" and their first concert date in Santiago Chile since the '70s.
For the complete history of Tavares and much more please visit: www.TAVARESBROTHERS.com.