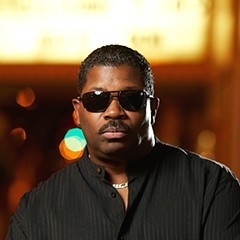 Known for his innovative vocals on such funk classics as "Watching You" and "Just A Touch of Love," with Slave, as well as his solo hits like "Weak at the Knees", "Way Out" and "Nobody Can Be You", and the top ten singles "Feel So Real" and "Dancing In The Key Of Life" Steve Arrington songs have been sampled by the likes of Jay-Z, Jermaine Dupri, Tribe Called Quest, De La Soul, Snoop, LL Cool J, Mariah Carey, and N.W.A. Steve was away from the music game for a while, but he's back and pushing the envelope like never before, as demonstrated by his recent collaborations with with productions duo, Christian Rich ("What More" on "FW-14", 2015), Dam Funk ("Higher", 2013), Snoop Dogg ("1Question" on "7 Days of Funk", 2013) and most recently Kool Moe Dee ("Are You Beautiful", 2018). Steve laid down vocals on the song "No Mos" on George Clinton's new album "Medicaid Fraud Dogg" (2018).
• Steve drummed for the Escovedo Family (Coke, Pete, and Sheila E), which included to a tour featuring Carlos Santana in 1978.
• Steve witnessed the birth of hip hop first hand, as artists like The Sugarhill Gang and Grandmaster Flash opened for Slave on the "Just A Touch Of Love" tour in 1979.
• Steve was nominated for the 1986 NAACP Image Award for Male Artist of the Year.
• In 2000 Steve won a Grammy for his contribution to "Money Ain't A Thang", performed by Jay Z and Jermaine Dupri.
• Steve received a standing ovation after his lecture at 2013's Red Bull Music Academy in NYC – only the 2nd in RBMA's 15 year history!
• Steve released "Pure Thang" in 2009, his first album in over 20 years.
• Steve released "Way Out" (80-84), a retrospective album, which also includes a bonus of previously unreleased and unfinished tracks in September 2014.
In addition to touring and other music collaborations, Arrington is teaming up with young producers for a new album on Stones Throw Record's, for release later in Spring 2020 (single to be released 12/2019).
Currently, Steve is touring with a new band, as well as doing dates with artists like Public Enemy, DJ Quik, Chub Rock and Q Tip, who are more than up for the idea of sharing the stage with someone who influenced and inspired their careers, as well as classic RnB groups, such as, The Ohio Players, Original Lakeside, The Bar-Kays, Con-Funk-Shun, Cameo, Zapp and George Clinton.