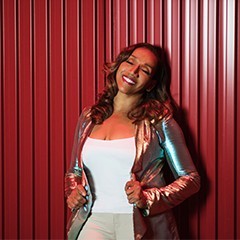 The heart of Sister Sledge is Family. With trendsetting style and musical flair, Kathy, Joni, Kim, and Debbie Sledge created a unique sound that garnered Grammy nominations, number one hits, and timeless global anthems. Featuring an iconic vocal by Kathy — the lead singer and signature voice of Sister Sledge's biggest hits — the lyrics to "We Are Family" were inspired by the real-life dynamic between the four sisters and propelled them to worldwide fame. Decades later, "We Are Family" was inducted into the Grammy Hall of Fame (2008) while the Library of Congress added it to the National Recording Registry (2017). Not bad for four sisters who "flock just like birds of a feather."
Born into a family of prodigious musical talent, the Philadelphia-based group learned both the business and creative side of the industry from an early age. Their grandmother Viola Williams was an acclaimed opera vocalist who featured the young quartet at church functions and charity events as "Mrs. Williams' Granddaughters." Their father Edwin Sledge broke racial barriers on Broadway as one-half of the tapping duo Fred & Sledge while their mother Florez Sledge had keen business acumen, becoming the group's manager and shepherding them through the subsidiary Cotillon record label when the legendary music industry executive Jerry Greenberg signed the newly named Sister Sledge to Atlantic Records.
During the early-'70s, Sister Sledge offered a fresh counterpart to the Jackson Five, scoring major hits everywhere from the U.K. to Japan with "Mama Never Told Me" and "Love Don't You Go Through No Changes On Me." In between, they won the Silver Award at the Tokyo Music Festival and appeared at Zaire 74, a concert conceived by Hugh Masekela in tandem with the historic "Rumble in the Jungle" match between Muhammed Ali and George Foreman. Their albums and soul-stirring concerts under- scored their mastery of pop, R&B, jazz, and dance music, with rousing renditions of Stevie Wonder and Gladys Knight songs, as well as their own self-penned material.
Groundbreaking producers Nile Rodgers and Bernard Edwards (the CHIC Organization) completely revamped the group's image on the #1 We Are Family (1979) album. "'We Are Family,' beautifully sung by Kathy Sledge, is a near-perfect fusion of gospel fire and disco cool," Rolling Stone critic Stephen Holden noted about Kathy's one-take recording of the title track, which the Pittsburgh Pirates adopted as their official anthem. Her lead vocals on "He's the Greatest Dancer" and "Thinking of You," plus Joni's soulful performance on "Lost in Music," fueled We Are Family with blockbuster hits, rewarding Sister Sledge with a platinum album and unanimous praise from critics.
Following the phenomenal success of We Are Family, Sister Sledge worked with innovative producers like George Duke and Narada Michael Walden, self-produced their own album The Sisters, and appeared on top music programs like Soul Train, American Bandstand, and Solid Gold. Throughout the '80s, with Kathy bringing her unique sound to the lead vocals, they fired up the charts with "Got to Love Somebody," "Next Time You'll Know," "All American Girls," "He's Just a Runaway," a cover of the Mary Wells classic "My Guy," the #1 UK smash "Frankie," and an early version of "All the Man I Need" recorded years before Whitney Houston scored her own hit with the song.
As each sister has pursued solo projects over the years, exploring their own personal and creative endeavors, all of them have continued to carry on the band's legacy. In the aftermath of 9/11, they came together for Nile Rodgers' all-star charity production of "We Are Family" featuring legends like Diana Ross and Patti LaBelle. All four sisters subsequently reunited on The Oprah Winfrey Show in 2011 where Oprah herself declared "We Are Family" "one of the most requested songs of all time."
To this day, the Sledge sisters remain one of popular music's most admired musical families. In fact, Billboard recently named their original recording of "We Are Family" one of the "Top 20 Greatest Girl Group Songs of All Time" (2017). Whether performing in different configurations of the group for different occasions, honoring their sister Joni who passed away in 2017, or coming back together for a worthy cause, their greatest achievement is bringing the world together through a song. Indeed, the enduring spirit of Family is the true legacy of Sister Sledge.