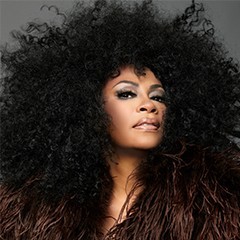 Jody Watley is a GRAMMY award winning multi-platinum singer/songwriter/producer/independent label owner; recognized as a style icon and one of the architects of 21st century Pop/R&B/Dance music.
Listed as one of Billboard Magazine's Top Female Artists and Top Dance Artists of All Time in 2018; Jody Watley is the original female lead vocalist with an unmistakable sound of the trio Shalamar.
Watley is joined onstage for a cavalcade of non-stop hits with the revitalized brand she helped create as a force in music. As Watley states "This is a complete musical journey from my solo hits and the best of disco soul hits, with 'Shalamar' Reloaded for delighted fans." Shalamar Reloaded featuring Jody Watley has performed to rave reviews and sold out shows worldwide since 2015. This new creative extension has brought features including a two hour broadcast special on SIRIUS XM's The Groove, television appearances, countless high profile media outlets bringing the glamour back to the disco and soul theme with a fresh infusion of energy with new talent. This is one concert event that is a must see experience, double hits in one show!
Hits Include: Take That To The Bank, The Second Time Around, A Night To Remember, Looking for A New Love, Don't You Want Me and More!!