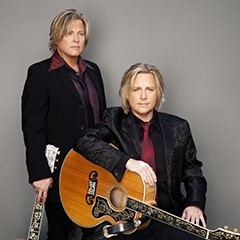 Famous for their incredible harmonies, musicianship, and humor—multi platinum recording artists and twin icons, Matthew and Gunnar Nelson are torchbearers of an American entertainment dynasty. As NELSON, their embellished pop harmonies in the phenomenal debut, 'After The Rain,' captured the California sound and recalled the fusion of pop, folk and paramount –the country rock sound—pioneered by their Rock and Roll Hall of Fame father, Ricky Nelson.
With NELSON, Matthew and Gunnar's pop rock band, the two reached an unprecedented achievement in 1990 with their self-penned "(Can't Live Without Your) Love and Affection," cementing the Nelson family as the only family in history to have three successive generations of No. 1 hit makers. Ozzie Nelson charted a No. 1 in 1930 ("And Then Some"), Ricky Nelson climbed to the top twice with "Poor Little Fool" and "Travelin' Man."
The siblings' soaring harmonies and penchant for crafted song hooks resulted in four additional Top 40 songs, "After the Rain," "Only Time Will Tell," "More Than Ever," and "All Shook Up." They dominated MTV in the early 1990s, selling out arenas and canvassing the globe on an incredible world tour. As NELSON, they have released 13 records, many of which are distributed on their own Stone Canyon Records.
The long time Nashville residents have never stopped touring and writing. Matthew and Gunnar demonstrate an ever-evolving sound that circles their unique harmony blend and acoustic base. They are in their zone when it's just their two voices and two guitars. Matthew and Gunnar's wheelhouse includes a diverse offering for audiences of all ages: Ricky Nelson Remembered, NELSON, SCRAP METAL, and new this year, Christmas with the Nelsons.
Ricky Nelson Remembered is a multimedia concert event positioned as two sons honoring a man that American grew up watching; to them he was simply 'Pop.' Ricky Nelson Remembered features perhaps Matthew and Gunnar's biggest hit that has yet to chart, "Just Once More."
Co-written alongside Victoria Shaw, this moving song shares the all too real feeling that having one more moment with a loved one leaves audiences in joyful tears. It is too, that this song has among the dozens more like "Lonesome Town," "Hello, Mary Lou," and the remarkable "Garden Party," performed in Ricky Nelson Remembered that Matthew and Gunnar echo America's own sentiment – just once more we want to hear these songs.
SCRAP METAL is the 'rock and roll rat pack', a confederacy of multi-platinum artists from the 80s Arena-Rock generation who took over MTV and held the airwaves hostage for a decade. These 'scraps" from all the various top bands create a surprising mix. Matthew and Gunnar comprise the core, joining rotating members from SLAUGHTER, NIGHT RANGER, VIXEN, and more.
Christmas with the Nelsons is a delightful collection of traditional and contemporary melodies. Wrapped in video from yesteryear and presented in first-hand accounts of growing up in one of Hollywood's most storied families, Matthew and Gunnar Nelson gift audiences with their humor and twin harmonies.