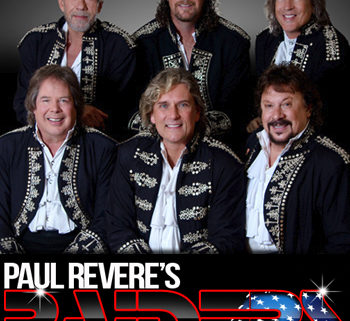 Paul Shaffer from "Late Night with David Letterman" calls them "The greatest rock and roll show band on earth!"
Darren Dowler (formerly with The Lettermen for 10 years) is an amazing vocalist, dancer and impressionist who will keep you highly entertained. Danny Krause (Keys), Ron Foos (Bass) and Doug Heath (Guitar) have been members of Paul Revere & The Raiders for 40+ years each and are the all-around core of the group. Jamie Revere, who has been a member on and off over a couple decades, is now a permanent and most welcome addition. His blazing guitar work and rockin' stage presence are what you'd expect from someone named REVERE! Relative newcomer Tommy Scheckel, who spent 27 years with The Buckinghams, will knock you out with his passion, showmanship and boundless endurance.
Paul Revere's Raiders are a non-stop ball of energy from the moment they hit the stage to their last encore – you WILL have a great time!
With over 50 million records sold and 20 Top 40 hits, including:
INDIAN RESERVATION
KICKS
HUNGRY
JUST LIKE ME
GOOD THING
UPS AND DOWNS
MR. SUN, MR. MOON
LET ME
LOUIE, LOUIE
HIM OR ME, WHAT'S IT GONNA BE?
THE GREAT AIRPLANE STRIKE
BIRDS OF A FEATHER
Website: www.PaulReveresRaiders.com