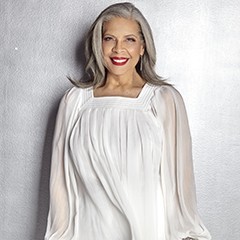 Patti Austin's keen interest in being a total entertainer likely started when she stepped onto the stage of the world-famous Apollo Theater in Harlem at the age of four at the urging of music legend Dinah Washington.  The daughter of jazz trombonist Gordon Austin, Patti was a bonafide recording artist in her teens, achieving her first chart success in 1969 with "The Family Tree" (a Top 50 R&B single) after a string of 45s that would later become treasured collector's items among Britain's Northern soul community.
During the 70s Patti was the undisputed "Queen" of the New York session scene, her voice was heard behind everyone from Paul Simon, Cat Stevens, James Brown and Joe Cocker to Bette Midler, Roberta Flack, Luther Vandross and Diana Ross and on countless memorable commercial jingles. After a series of much-acclaimed albums for CTI Records, she signed with her godfather Quincy Jones' Qwest label and began achieving mainstream success on an international level thanks to the GRAMMY®-nominated hit "Baby Come To Me," her now classic duet with James Ingram and the follow-up duet, the Oscar-nominated "How Do You Keep the Music Playing?" as well as her appearance on albums with Jones on his best-selling Stuff Like That, his GRAMMY®-winning classic The Dude and later, his From Q With Love Vols. 1 & 2. 
The GRAMMY®-nominated For Ella album opened up new doors for Patti as a performer and her embrace by the jazz world was further cemented with her Grammy-winning classic CD "Avant Gershwin:  Patti's upcoming 2020 Album offering entitled "Let's Do It" will surely garner serious Grammy consideration. Now after more than two decades of touring her unique take on the classic American Song Book has expanded Patti's appeal and garnered standing ovations all over the USA and Europe.  Her tour of Australia with the great James Morrison has now secured an ongoing love affair between Patti and Australian music lovers. Patti will tour Australia again in 2020, and this time covering all the major Australian cities.
Continuing to cover all her music bases, Patti and Trevor Lawrence Jr launched their groundbreaking "Bebop to Hip Hop" show and received standing ovations at The Kennedy Center on New Year's Eve. "BeBop To HipHop"  will tour in 2020.
Patti's latest critically acclaimed Pop/ R&B release entitled "Sound Advice" will soon yield a sequel "Sound Advice 2" and will further demonstrate her amazing artistic versatility. This versatility has created frequent invitations to conduct master classes for young musicians and demand from elementary schools for performances of her children's CD entitled "Mighty Musical Fairy Tales" There is also a theatrical show in the works featuring the fairy tales.
Calling upon her over six decades of entertaining fans all over the world and becoming immersed in many cultures Patti is launching the "Patti Austin Podcast". Her mission – to celebrate the power of music to unite us and bring to light many aspects of other individuals and groups that can enrich our lives and fuel real contributions to societal harmony
In 2020, Patti will continue her philanthropic work with "The Over My Shoulder Foundation" and keep up a constant touring schedule that will keep her faithful fans wanting more from this eclectic and always exciting entertainer.