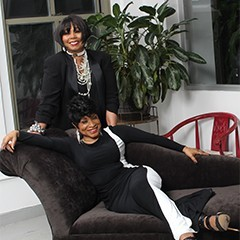 Style, sophistication, and soul! That's what Luci Martin, and Norma Jean Wright brought to CHIC as the group's original lead vocalists. Alongside producers Nile Rodgers Bernard Edwards, and drummer Tony Thompson, these legendary ladies made CHIC synonymous with infectious hooks and timeless grooves. They collected a wall of gold and platinum albums, fueling the charts with hits that dominated clubs and airwaves across the globe.
Their story begins in 1977, when CHIC's gold-selling eponymous debut featuring Norma Jean Wright as the group's first lead vocalist. The album generated a pair of chart-topping disco hits, "Everybody Dance" and the Grammy-nominated "Dance, Dance, Dance,". Luci Martin joined shortly thereafter and accompanied Norma Jean on leads during CHIC's first tour. When Rodgers and Edwards produced Norma Jean's self-titled solo debut, yielding her hit single "Saturday", Luci Martin stepped up to front Chic as lead vocalists along with Alfa Anderson, spawning hit songs Le Freak, Good Times, and many more.
Following their tenure in CHIC, Norma Jean and Luci worked with an array of music icons such as Aretha Franklin, Madonna, Luther Vandross, Michael Jackson and others. In 1996, Norma Jean and Luci formed a duo and brought disco hits to new generations of listeners. Parallel to each vocalist's many creative pursuits, CHIC's seminal contributions to popular music were recognized by some of the music industry's most prestigious organizations, including a nomination for the Rock & Roll Hall of Fame. No less an authority than Rolling Stone even placed "Good Times" on the magazine's "500 Greatest Songs of All Time" list.
In recent years, Norma Jean and Luci have relaunched the classic vocal sound they introduced in CHIC. The duo reunited with Alfa Anderson, and debuted their live show at the "21st Annual Evening Under the Stars" benefit (Palm Springs) in May 2014, followed by a surprise appearance during Nile Rodgers & CHIC's concert at the Hard Rock Hotel in Ibiza, plus a set with Company Freak at New York's Central Park SummerStage Series in June 2014. A year later, they headlined the official launch party at Mandalay Bay Hotel & Casino's LIGHT Nightclub in Las Vegas for Pacific Electronic Music, a label formed by Jerry Greenberg and DJ Max Matire. Forming the trio Next Step, they recorded "Get On Up" (2015) with Kathy Sledge and Ibiza-based producers Aristofreeks, which peaked at #8 on Billboard's dance charts in May 2016. They ushered in 2019 with a televised New Year's Eve show in Italy, followed by a headlining performance on the Ultimate Disco Cruise (Ft. Lauderdale-Key West-Cozumel) and a Mardi Gras appearance at Pygmalion Fest in New Orleans. From Palm Springs to Paris, Norma Jean Wright and Luci Martin are ready to deliver their classy, high-energy, roof-raising show to audiences all around the world. Indeed, the good times are just beginning.