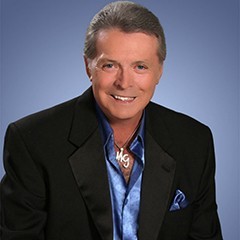 Mickey Gilley has accomplished what most artists only dream of — a long and fulfilling career marked by loyal fans and financial success. One of the secrets behind Mickey's longevity is his ability to balance the heart of an entertainer with the brain of a businessman. He hasn't had to "reinvent" himself to stay in the game. He has stayed current with the times, but Mickey knows what not to change. He has treated his fans with the same respect throughout the years, maintained his consistent high-quality performances, selected classic songs that withstood the fickleness of trends and tapped into business opportunities with an uncanny foresight.
The landmark Texas nightclub he helped create in 1971, is the perfect case in point. Gilley's Club was the sensation of the era: the "world's largest honky-tonk." It was a launching pad for some of country music's biggest stars and the dominating force behind the "Urban Cowboy" craze that swept the country in the early '80s, following the release of the John Travolta movie filmed in the Pasadena, Texas, nightclub.
Today, more than a decade after the club burned to the ground in 1989, Gilley's — like its namesake — just keeps rising from the ashes to retain its legendary status. As the new century dawned, developers announced the rebirth of Gilley's as "Gilley's Dallas," an entertainment complex that is part of the "South Side" development in the Texas metropolis. Bigger and better than ever, the new Gilley's contains a 2,000-seat showroom featuring national headline acts.
"I knew we had done something extraordinary at the time, especially after Paramount filmed Urban Cowboy in the club," Mickey says. "But I had no idea Gilley's would outlast the millennium. This is really incredible."
In addition to Gilley's Dallas, there is a Gilley's Club at The New Frontier Hotel in Las Vegas. This gives Gilley's a presence on the world-famous Las Vegas Strip. Urban Cowboy was mounted as a musical, which ran on Broadway for part of 2003. The Gilley's Club logo was prominent on the Broadway stage.
Even as he was helping to build the original Gilley's Club into the landmark honky-tonk of the century, Mickey was also launching an incredible career as an entertainer and recording artist. He scored his first string of consecutive number-one hits in the mid-'70s — "Roomful of Roses," "I Overlooked An Orchid," "City Lights," "Window Up Above," "Don't The Girls All Get Prettier At Closing Time" and "Bring It On Home To Me." He performed traditional honky-tonk songs long before the style returned to favor in Nashville. In the '80s, he became a smooth crooner of country love songs — "That's All That Matters To Me," "Headache Tomorrow, Heartache Tonight," "I'm Just A Fool For Your Love," "Lonely Nights," "Put Your Dreams Away" and "Paradise Tonight" — and distinctive updates of such romantic classics as "Stand By Me," "True Love Ways," "You Don't Know Me," "Talk To Me" and "You've Really Got A Hold On Me."
In all, Mickey has achieved a remarkable 39 Top-Ten country hits, with 17 of those songs reaching the No. 1 spot on the country charts. In 1976, he swept the ACM Awards, hauling home trophies for Entertainer of the Year, Top Male Vocalist, Song of the Year, Single of the Year and Album of the Year. He was ranked among the top-fifty country music hitmakers in the 1989 book written by record research historian Joel Whitburn.
Mickey also guest-starred on numerous popular television series, including Murder She Wrote, The Fall Guy, Fantasy Island and Dukes of Hazzard, as well as featured appearances on 20/20, The Grammy Awards Show, The American Music Awards, Solid Gold, The Tonight Show and several others. He is among a select-few country singers who have achieved the honor of being recognized with a star on the Hollywood Walk of Fame. In addition, he was a featured attraction in Las Vegas, Reno and Atlantic City, which proves how universal his music is to American audiences.
And then there was Gilley's Club. The forerunner of Hard Rock Cafe and other theme restaurants so popular today, it also helped elevate country music to new heights of popularity.
"Gilley's wasn't planned. It evolved into what it became," Mickey says. "We started out seating 750 people, but because of a local television show I had in the Houston market, the crowds began to grow, and we started adding on to the club."
Esquire magazine caught wind of the excitement being created by the Pasadena nightclub and featured it in an article called "The Ballad of the Urban Cowboy." Intrigued by the piece, Paramount Pictures contracted to use Gilley's as the centerpiece of a motion picture with Saturday Night Fever star John Travolta.
"I never really believed that Paramount was going to do a film based on that article and shoot it at Gilley's," Mickey shares. "I still didn't believe it after we signed the contracts. Then one day I was in the recording studio that we had on the grounds, and the Paramount trucks started rolling in. I thought, 'Wow, they're really going to do it.'"
Opening his Branson theater in 1990, is another example of Mickey's visionary business ability. Just as he was a pioneer in the area of country dance clubs, Mickey was among the first entertainers to recognize the potential of the Ozark music Mecca. When his first Branson theater burned down in 1993 (deja vu!), Mickey rebuilt on the same spot, updating the venue and the restaurant he had opened next door in 1992. He expanded his business ventures further in 2002, by opening Gilley's Restaurant in his hometown of Pasadena, Texas.
"Branson works because it provides the best conditions for both the fans and the entertainers," Mickey notes. "The fans get to see us under the best setting possible as far as seeing a singer. The theaters have good seats, and we have set up the best stage with state-of-the-art sound and lights. We don't have to break down and set it back up day after day while we travel night after night, so everyone on stage is rested and ready to entertain. It's a quality situation for everyone."
In 2003, Varese Sarabande Records released Invitation Only. Mickey had recorded this album in 1989 and 1990. Several of the songs on the album are now featured in his show. Sony Music also put out Mickey Gilley-16 Biggest Hits on their Legacy imprint. The CD includes all 17 of Mickey's No. 1 recordings in the chronological order that they were released.
Mickey has become successful in Branson in the same way that he was successful as a recording artist: by giving his audiences what they want. His is a timeless talent keyed to the response of his fans.
Mickey's first musical influence as a boy growing up in Ferriday, La., was his piano-pounding cousin, Jerry Lee Lewis. He grew up close to Jerry Lee and another famous cousin, Jimmy Swaggart, even as he snuck up to the windows of clubs to absorb the haunting sound of Louisiana rhythm-and-blues.
Jerry Lee was the inspiration for Mickey's decision to entertain people for a living. At age 17, shortly before his cousin scored his first big hit, the youngster moved to Houston to work in construction. Mickey went to see Jerry Lee in concert in Houston and took him to the airport after the show. "He pulled out a big wad of hundred-dollar bills, and it made me decide right then that I was in the wrong business," Mickey says with a laugh. "The problem was, I was trying to be a Jerry Lee clone. Then a guy named Jim Ed Norman [now the president of Warner Bros./Nashville] came into my life. Jim Ed got me out of the shadow of Jerry Lee by giving me songs that appealed to a bigger audience. He helped me find my musical identity."
Mickey began by performing in the Houston nightclubs. He recorded his first song in Memphis for Dot Records and later performed as a singer and pianist in cities throughout the South. Eventually, his trek returned him to the Pasadena area, where he took up residence at the Nesadel Club and quickly developed into one of the city's most popular acts. He opened Gilley's in 1971, and started hitting the pop and country charts with a bang in the mid-seventies.
The entertainer continues to maintain a residence in Pasadena, Texas. His hobbies include golf, walking and flying his own airplane.
"I enjoy performing and singing as much these days as I ever have," Mickey says. "I joke that I'm semi-retired. Of course, I work just as hard as always. The thing about experience is, it helps you keep your priorities straight. I'm interested in quality now, not quantity. I make sure my business and my life are set up so I can get the most enjoyment out of the things I love. And the thing I love the most is getting on stage and performing a good show for people."